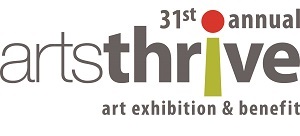 ArtsThrive: Art Exhibition and Benefit 2021
Albuquerque Museum
2000 Mountain Rd NW
Albuquerque, NM 87104
Contact Email:
artsthrive@albuquerquemuseumfoundation.org
Call Type:
Exhibitions
Eligibility:
National
State:
New Mexico
Entry Deadline:
3/21/21
Application ClosedNumber of Applications Allowed:
2
REQUIREMENTS:
Media
Images - Minimum: 3, Maximum: 4
Total Media - Minimum: 3, Maximum: 4
Entry Fee (Albuquerque Museum Foundation): $25.00

EXHIBITION DATES:
October 9, 2021 through December 5, 2021
LOCATION:
Albuquerque Museum
2000 Mountain Rd NW
Albuquerque, NM 87104
APPLICATION DEADLINES AND FEES:
Artists may apply through SUNDAY, MARCH 21, 2021 - $25.00 application fee
The non-refundable fee for applications is payable online by credit card. No applications will be accepted after March 21, 2021 11:59 pm MST.

NOTIFICATIONS:
JURY RESULTS ARE SENT OUT VIA EMAIL BY CaFE IN LATE JUNE or EARLY JULY, 2021. Please apply with an email that is active and in-use. Invited Artists will be required to submit their entries subject to the requirements described below. Please read carefully.
APPLYING ARTISTS - REQUIRED ITEMS:
A minimum of three (3) and a maximum of four (4) images that represent no more than two (2) of the following categories (Artists may apply under a MAXIMUM of TWO (2) categories and are encouraged to apply separately to each category if doing so): REPRESENTATIVE PAINTING, ABSTRACT PAINTING, SCULPTURE & 3D OBJECTS, PRINTS (NO OFF-SET OR GICLEE), DRAWING, PHOTOGRAPHY, JEWELRY, FIBER, GLASS, AND POTTERY/CERAMICS.
Please note:​ The artwork submitted for your application does NOT need to be the artwork you intend on submitting for the exhibit, if accepted. However, the images you submit should be representative of a current body of work (done in the past 3 - 5 years) and in the style of work that you wish to submit for exhibition if you are accepted into the show.
Images sent in should be complete with title, price, medium, and size (framed/unframed).
Please provide an Artist Statement.
Applicant must be 18 years of age or older to enter.
INVITED ARTISTS - RULES OF ENTRY:
SIZE LIMITATIONS:
This is a SMALL FORMAT Exhibition. As such, we would ask that you read carefully below what the size limitations include.
· 2-D/WALL-HUNG ART: Artworks that are hung are limited to three (3) works on display. Each work cannot exceed a framed/unframed size of 18 x 18 inches (324 square inches height x width) or any proportion of height and width added together equaling 36 inches total. Framing should be similar on all pieces to be displayed
· 3-D/CASE-DISPLAYED ART: 3-D artwork that is displayed in a case are limited to two (2) works. Each piece cannot exceed 20 inches in any one dimension (height, width or length).
Jewelry artists may submit a jewelry set of three (3) total pieces to be displayed, as a set, in a jewelry display case. This will only be applicable for SETS OF JEWELRY (i.e. one (1) necklace, one (1) bracelet, and one (1) pair of earrings), otherwise, the 3-D case art rules will apply.
SALE OF WORK:
All artwork is for sale to the public during the 8-week exhibition from October 9 – December 5, 2021. All artwork, sold and unsold, will remain on display during the duration of the exhibition. The sale price is set by the Artist. The Albuquerque Museum Foundation will retain 40% of the Artist's price on all artworks sold. The remaining 60% will be paid to the Artist.
Traditionally, ArtsThrive has held an Opening Weekend Collectors' Dinner and Saturday Gala where ticket holders have an exclusive opportunity to purchase artworks before the exhibition opens to the public. Due to COVID-19, the opening weekend events will be scheduled but may not take place in-person. However, if the Dinner and Gala in-person events do take place, they are scheduled for October 7 and October 9, 2021. Online art sales will be open to the public through an online platform, via buy-it-now sales AND/OR auction sales, to be determined.
· ONLINE ART SALES: Any remaining artwork not sold during the Opening Weekend events of ArtsThrive will be available to purchase through an online shopping cart.* It will be required that the Artist provide high-quality images of their artwork no later than Monday, September 13th, 2021, which is about 3 weeks prior to the delivery of their artwork to the ArtsThrive gallery. The artwork must be a professional, in-focus representation for publication image provided as a .JPEG NO LESS THAN 72 dpi to ensure the best representation of the art online. The Foundation reserves the right to reject any images that do not meet these requirements. Any artwork images submitted may be used to promote the ArtsThrive exhibition on social media. Artists who do not provide images risk the opportunity of online art sales as there is no guarantee their work will be displayed online unless this deadline has been met. All artwork will also be available for purchase through the Albuquerque Museum Store for the duration of the exhibition.
( *This is under the assumption of an in-person exhibition & sales taking place in conjunction with online sales. Otherwise all sales may be online.)
INSTALLATION REQUIREMENTS:
Artwork must be delivered ready-to-install and dry to the touch. Wall pieces need not be framed, but must be equipped with D-rings as hanging devices and arrive ready to hang on the wall. The Albuquerque Museum Foundation and/or the Albuquerque Museum reserve the right to modify hanging devices if necessary. Artwork that has arrived at the Museum but is not in satisfactory display condition OR does not meet the size limitations MAY BE EXCLUDED from the ArtsThrive exhibition and returned to the Artist.
SHIPPED ARTWORK:
Artwork that is shipped to the museum must be shipped in a reusable crate or commercial shipping container, made from either wood or cardboard. Do NOT use Styrofoam peanuts as packing material. Unsold artwork will be repacked and returned to the Artist in the same shipping container as received. Damages to artwork, whether in transit or on the Museum premises and regardless of responsibility, will be reported to the Artist within two business days by the Foundation. Damaged artwork will not be displayed. Damaged shipping containers or materials will not be reused.
30 days after the exhibition closes, all artwork unclaimed by the Artist will be considered abandoned and will no longer be the responsibility of the Albuquerque Museum Foundation or the Albuquerque Museum.

ALL SHIPPING COSTS ARE THE RESPONSIBILITY OF THE ARTIST. Please make sure that the artwork either comes with a return shipping label when sending the artwork, or a return shipping label is emailed to the ArtsThrive administrator at the end of the exhibition.
RELEASE OF ARTWORK:
Written authorization is required for the Albuquerque Museum Foundation or the Albuquerque Museum to release work to anyone other than the Artist.
LIABILITY:
Artwork accepted for ArtsThrive will be handled with professional care; however, the Museum and Foundation staff and volunteers will not be held liable for loss or damage to artwork while on the premises or in shipping. Artwork will be insured by the Albuquerque Museum while on exhibit and for the duration of the exhibition. Artist shall, at his/her expense, procure and maintain such insurance as desired against all risk of loss or damage to said property during shipment to the Museum and if not sold, upon return to the Artist.
Thank you for your interest in being a part of the 31st Annual ArtsThrive Arts Exhibition and Benefit!

Erik Parker
Program Associate and ArtsThrive Administrator
Albuquerque Museum Foundation
P.O. Box 7006
Albuquerque, NM 87194
505.842.0111
505.842-0112 Fax
http://www.albuquerquemuseum.org/artsthrive
artsthrive@albuquerquemuseumfoundation.org
Print this Page
View Legal Agreement