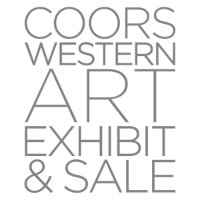 2022 Coors Western Art Exhibit and Sale
Coors Western Art
National Western Stock Show
4655 Humboldt St.
Denver, CO 80216
Contact Email:
coorsart@nationalwestern.com
Call Type:
Exhibitions
Eligibility:
International
State:
Colorado
Entry Deadline:
4/15/21
Application Closed
REQUIREMENTS:
Media
Images - Minimum: 5, Maximum: 15
Total Media - Minimum: 5, Maximum: 15
Entry Fee (Coors Western Art Exhibit & Sale): $40.00

Overview
Thank you for your interest in the Artist Application for the 2022 Coors Western Art Exhibit and Sale at the National Western Stock Show in Denver, CO, USA. The Coors Western Art Exhibit is a nationally-recognized, contemporary Western art exhibit curated by the Denver-based curator, Rose Fredrick. We select an artist for the quality of their body of work, and many artists are asked back year after year. We are interested in fine art, in any media (2-D or 3-D), that reflects the West as it is today or investigates a contemporary idea or depiction of the West, with the "West" as concept or location. Our show is known for contemporary viewpoints and media, so keep this in mind when considering if you are a fit for our show.
Before applying, we HIGHLY recommend you view the Artists and artwork on our website coorswesternart.com for an understanding of the show and its direction and purpose. The 2022 Coors Western Art Exhibit and Sale will have up to 75 fine artists. We select 10-20 new artists every year.

Submission Guidelines
Required:
A Minimum of 5 and a maximum of 15 images of paintings, prints, sculptures, photographs, or other fine art. We will not select jewelry, furniture, saddles, pottery, or other crafts. No off-set prints or giclee reproductions of original work will be accepted; but fine art photography printed digitally will be considered.

MUST include titles, prices, medium, and sizes of all artwork.

Artist statement
Submit up to 15 examples of your work for review by the curator. We want to see your best work. We are looking for artists to support, not one-off artworks for our show. Our exhibit features local Colorado, National, and International artists. The examples do not have to be the pieces intended for the exhibit, some of the application images may be previously sold work, and you may submit multiple media in one application.

YOU MUST INCLUDE PRICES, MEDIUMS, TITLES, AND SIZES FOR EACH ARTWORK TO BE CONSIDERED.
Please submit only original work in any medium with Western subject matter or spirit, broadly defined. Etchings, prints, and photographs in small editions may be considered, no giclee or mechanical reproductions of original work (such as giclees of original paintings) will be accepted. We do accept fine art digital photographic prints printed on archival paper.
All artwork exhibited in the Coors Western Art Exhibit and Sale must be available for purchase the entire duration of the show, and no pre-sales are allowed.

Work should be current (created in the last year or so) and not have been shown in a retail setting or offered for sale in a gallery in Colorado (exceptions for sculpture for both these stipulations).

We will exhibit up to six works total, including three main or major works and three small works (roughly 144 square inches or smaller for 2-D and 12 x 12 x 12 inches for 3-D).

Small works will be designated as part of a silent auction during the opening events.

Sale prices are set by the artist and are the artist's retail price. DO NOT increase your prices for our show.

Artists set the start price for silent auction small works, typically the retail price. Silent auction bids ABOVE the start price go to the National Western Scholarship Trust, and the artist retains their commission of the set price.

Accepted artworks must remain on display for the entire duration of the exhibition and will not be available for pick-up until after the exhibit ends.

All works must be ready to show – framed, wired for hanging, and sculpture with bases.

All work is sold framed, including multiples of prints and photographs, unless discussed with the curator.

The artist is responsible for shipment of artwork to and from the show (if the piece does not sell). We suggest you provide insurance to cover the artwork while in transit.

Coors Western Art provides insurance while the art is on site.

Unsold artwork will be repacked and returned to the artist in the same shipping container as received.

Artists are not guaranteed to be asked back to the show.
We have two coinciding art exhibits: Coors Western Art Exhibit artists get 70% commission; Club Artists get a 60% commission. The curator will determine the best fit for your work. All artists have work listed and shown on our website, are listed on our ad placement, and could be featured in any outreach. Artists should follow us on Facebook and Instagram, share their work on social media, and let their buyers and mailing lists know about the show.
The curator has the right to not accept artwork submitted or to remove items from the show for any reason at any time. The results of the selection process are final. No refunds will be made on unaccepted entries.
After acceptance the curator will work with the artist regarding artwork for the show. Upon the curator's selection of an artist the contract and show timeline will be sent to the artist. The work will need to be on premises in November 2021. Unsold work will be released or shipped to the artist after January 24, 2022.
There is a $40.00 application fee for each artist submitting work. All applications received on or before April 15, 2021, will be reviewed by the curator.
Notifications
Results will be sent to applicants via CaFE by May 15, 2021. IF YOU DO NOT RECEIVE NOTIFICATION BY JUNE 1, 2021, YOU HAVE NOT BEEN ACCEPTED INTO THE SHOW. CHECK THE STATUS OF YOUR CaFE APPLICATION BEFORE REACHING OUT.

Events
Plans for 2021/2022 Coors Western Art Exhibit and Sale depend on Denver and Colorado Covid guidelines, but we are hopeful to return to our typical event structures.
Planned event calendar
December (9?), 2021: Young Collectors event and sale of Club art

December 2021: Private tours of the exhibition with curator and selected (local) artists

January 3, 2022: VIP Collectors preview with artists

January 4, 2022: Opening Red Carpet Gala (artists attend), silent auction and sale of both Coors and Club Art

January 8-23, 2022: Gallery open to the public during the National Western Stock Show, Club Art Exhibition in the Cattleman's Club. Sales continue.
Due to the nature of our space, are purchased during the Young Collectors event or Red Carpet Gala will likely not be hung in the gallery during the Stock Show.

Exhibition & Location
The Coors Western Art Exhibit and Sale began as the joint inspiration of Coors Brewing Company and the National Western Stock Show in 1993. Produced by the National Western Stock Show, proceeds from the Coors Western Art Exhibit benefit the National Western Scholarship Trust. This trust annually provides college financial support to 100 of the next generation of agriculture, veterinary science, and rural medical leaders. The Coors Western Art Exhibit is considered one of the finest Western art exhibits in the United States.
The National Western Stock Show in Denver, CO, USA, is a not-for-profit organization. For more information visit nationalwestern.com. The National Western Stock Show is considered the super bowl of livestock shows, including live horse shows, rodeos, livestock auctions, and trade show hall. Up to 34,000 visitors come through the Coors Western Art Gallery every year.
Curator

Rose Fredrick (rosefredrick.com) has curated the Coors Western Art Exhibit since 1997. Over that time the show has grown from 30 artists to more than 60, and now includes an off-shoot exhibition in the National Western Club. As an art advisor, publisher and writer, Rose has been actively involved in the Denver art scene for more than 25 years, working on exhibitions for non-profit causes and writing about art and artists for national publications. Fredrick won a National Endowment for the Arts grant in 2006, to curate a traveling exhibition title "Master Pieces of Colorado," which explored the legacy of landscape painting in Colorado. Her interview with Wayne Thiebaud has been viewed at museums during his retrospective exhibitions, and is used by artists and professors in college curriculum. She has been asked to jury numerous exhibitions, and has both moderated and sat on panel discussions covering such topics as Art versus Smut: Where Does Photography Cross the Line and What's Wrong with Western Art? Most recently, Fredrick has started a fine art publishing company with an affiliation to University of New Mexico Press. Her publication Elevated Perspectives: The Paintings of Joellyn Duesberry was selected as a finalist for the Colorado Book Awards. Fredrick is also the curator of the Parker Arts, Culture, and Events (PACE) Center in Parker, CO.
Print this Page
View Legal Agreement