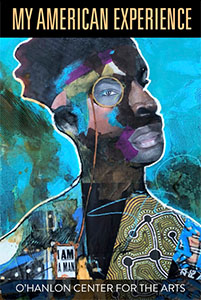 My American Experience
616 Throckmorton Ave., Mill Valley, CA 94941
Contact Email:
ellen@ohanloncenter.org
Call Type:
Exhibitions
Eligibility:
National
State:
California
Entry Deadline:
2/26/21
Application Closed
REQUIREMENTS:
Media
Images - Minimum: 1, Maximum: 3
Total Media - Minimum: 1, Maximum: 3
Entry Fee (My American Experience): $40.00


"My American Experience"
America claims to be the land of the free, a country where dreams are nurtured and allowed to come true. It professes to welcome the immigrant and anyone seeking a better life.
But the experience of America to the individual living here is as broad as the country is big. Current events bring to light how far the myth is from reality for many within our borders. Yet some fortunate people do experience the abundance and opportunities available here.
We invite artists to share their uniquely American Experiences.
Freedom of expression is still one of the sacred promises of the Founding Fathers. This show intends to encourage and honor that freedom through art."

Juror: Lauren Palmor, Ph.D.
Assistant Curator, American Art
Fine Arts Museums of San Francisco
de Young \ Legion of Honor
Lauren Palmor is the Assistant Curator of American Art at the de Young Museum, Fine Arts Museums of San Francisco. She received a Master of Arts with Merit in the History of Art from the Courtauld Institute of Art (2009), and a Ph.D. in Art History from the University of Washington (2016), where her dissertation research addressed questions of ageism in the study of nineteenth-century art. She has held fellowships at Winterthur and the Philadelphia Museum of Art, and has contributed to a number of exhibition catalogs and scholarly publications, including Revelations: Art from the African American South (FAMSF, 2017), Cult of the Machine: Precisionism and American Art (FAMSF in association with Yale, 2018), and American Art: Collecting and Connoisseurship (Merrell, 2020). She frequently supports institutional digital partnerships, working collaboratively to design new ways of sharing and experiencing American art with museum audiences.
Suggestions of Artists for Inspiration: William H. Johnson, Andrea Kowch, Malcah Zeldis, Pacita Abad, Jean-Michel Basquiat, Maira Kalman, Amy Sherald, Charly Palmer

​-This will be an online Show and remain up indefinitely.

IMPORTANT DATES:
Friday, February 26, at 11pm PST is the deadline for submission.
Friday, March 5, at 5pm, Chosen artwork will be announced by email, & Invites will be sent out for our online Roundtable Discussion
Tuesday March 9, This show will be exhibited on the O'Hanlon Center for the Arts" website.
Tuesday, March 9, 4pm. We will host an online discussion, our traditional Artist Roundtable, for artists to expand on and share with others.

INFORMATION NEEDED:
Artists Name
Email
Address
Phone Number
Website (if Applicable)
Title of Artwork
Medium
Dimensions H" x W" x (D" if sculpture)
Price (if Applicable)
Each artist may submt up to 3 individual pieces of artwork for consideration into this juried show. Diptiques and Triptiques are considered 1 piece of work
IMAGES:
-Named as: "Title_Last Name"
*Please be sure to title images correctly before uploading**
ENTRY FEE: $40
(**OHCA members, $30 with coupon code sent out through our member database. To use coupon code, first choose the $40 entry box. After choosing, you will be prompted to enter your code **)
People may become NEW first time members of the O'Hanlon Center for the Arts, for $95/year for a free submission.
Any entry fees paid by check should be written out to "O'Hanlon Center for the Arts" and mailed to 616 Throckmorton Ave, Mill Valley, CA 94941, and must be received by Monday, March 1st.
*This will be an online show, and is open to all visual mediums, (painting, drawing, sculpture, installations, textiles, photograpghy, etc.). **Film, audio and video are not accepted. There are no size restictions. Artwork may be offered for sale or not for sale. If not for sale, please list price as 0.00.
We will refer all interested buyers to the artists. Details of sale & shipment of artwork to buyers is handled by the artist.
Please contact Ellen Mattesi, Director of Operations at O'Hanlon Canter for the Arts, at ELLEN@OHANLONCENTER.ORG to become a member or with any questions.
*Gallery Policies and Guidelines
O'Hanlon Center for the Arts (OHCA)
By submitting artwork to be considered for any Exhibition, Artist understands and agrees to the following:
Participants / Submissions:
Open to all artists age 16 and over.
Works previously shown at the O'Hanlon Gallery in house or online are not eligible.
Exhibit Curation:
For most exhibits, not all artists will have artwork selected for showing. Final artwork selections are up to the Exhibit Juror(s) and/or Installer/Curator, both of which vary from show to show.
Artwork Sales:
Buyers will pay Artist directly for any art sales.
Artist agrees to contact OHCA of this sale, and make a donation to OHCA of 30% of the sale price, on all sales of artwork within the first 60 days of the exhibition. This includes all artwork exhibited in an OHCA Gallery, in an online OHCA website gallery, and facilitated by OHCA. Donations to OHCA are tax-deductible to the extent permissible by law. *It is not required to have your artwork available for sale.
Publicity:
By submitting work, artists agree that photographic images and/or video of the artist and/or their artwork, in whole or in part, may be used by OHCA in various forms including but not limited to print, online and social media. Artists agree to be added to O'Hanlon Center newsletter mailing list and can unsubscribe at any time.
Mission and Values
O'Hanlon Center for the Arts is a nonprofit educational organization (501(c)3) whose mission is to provide an environment and spaces where creativity and community can develop, expand and flourish.
CORE VALUES STATEMENT
With joyful hearts and curious minds, we honor each individual's creative exploration, encourage artistic practice, and offer the freedom to begin, discover, express, and reflect.
Print this Page
View Legal Agreement