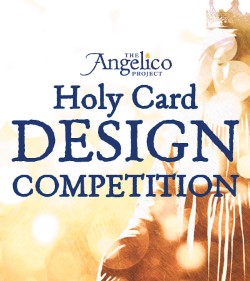 Holy Card Design Competition -Archdiocese of Cincinnati Bicentennial
The Angelico Project
PO Box 18092
Cincinnati, OH 45218
APPLY NOW
Contact Email:
ncsmith@angelicoproject.org
Call Type:
Competitions
Eligibility:
Regional
State:
Ohio
Entry Deadline:
3/19/21
Days remaining to deadline: 23
REQUIREMENTS:
Media
Images - Minimum: 1, Maximum: 3
Total Media - Minimum: 1, Maximum: 3
Entry Fee (Holy Card Design Competition): $10.00

The goal The goal ​of this competition is to select images suitable for reproducing as a set of Holy Cards for the celebration of the Archdiocese of Cincinnati's Bicentennial. Holy Cards are small pieces of sacred art, images that lead to prayer and contemplation. This collaboration with the Archdiocese furthers the Mission of the Angelico Project to promote and demonstrate the transcendent and transformative power of Truth, Goodness, and Beauty in the arts.
Artwork for this project should be produced by artists in the Archdiocese of Cincinnati and Greater Cincinnati Region, should evidence elements of Goodness, Truth and Beauty; witness to the dignity of the human person; attest to the reality of the spiritual life.
Artwork may be made in any medium that can be reduced and reproduced to 2.5 by 4.5 inches.

The Pilgrimage Prayer will appear on the verso of the card.
PILGRIMAGE PRAYER:
Mary, Mother of the Church and our Mother,
present our prayer of thanksgiving to your Son.
Beg from Him the graces we need to be faithful disciples
who follow Him with enthusiasm and joy.
May our witness to the love of God bear fruit
in our archdiocese, parishes, homes and hearts.
Teach us to be God's joyful witnesses,
to radiate Christ in all we do,
so that all people might know, love and follow your Son
through this life and into the next.
Amen.
The focus of the jurying process will be on excellence in concept, technique, and expression- work that will inspire and move the heart and mind toward God.
Juror Panels:
Adult Category- Winning images will be selected by Father Jan Schmidt, pastor of the Cincinnati's Cathedral Basilica.
Student Category- Elementary and High School submissions will be juried by a separate jury of educators.
Twelve images will be chosen over all.

Prizes: Winners will have their artwork printed on the holy cards, and their work attributed. The top 100 submissions will be shown in a Virtual Art Show at The Angelico Project website.
Eligibility: Artists must reside in the Archdiocese of Cincinnati. Artists in the Greater Cincinnati region are also eligible.
Two categories : Adult and Student (High School and Elementary)
Visual arts media welcome, e.g. painting, pastels, photography, sculpture, print-making, watercolor, graphic art, glass, fibre arts. All images submitted must be in a format to be reproduced at Holy Card size.
The Angelico Project welcomes all artists in the Archdiocese of Cincinnati, Catholic and non-Catholic. All people of good will are welcome.

DEADLINE FOR ENTRIES: March 19, 2021
Holy Cards will be distributed during the Bicentennial Marian Pilgrimage May 16- June 19, 2021
ENTRANCE FEE for up to three entries- $10.
Pay Entry Fee online at time of submission or pay by check to The Angelico Project.
Checks must be received by March 19, 2021.
Mail to: The Angelico Project- Holy Card Design Competition
PO Box 18092
Cincinnati, OH 45218
Submission Requirements
Entries are digital and must be submitted online at

CaFÉ- (CallforEntry.org)

Fee Payment — CaFÉ website at time of entry submission or by check made out to The Angelico Project as noted above. Checks must be received by March 19, 2021, in order for submission entry to be eligible for the competition/exhibition. Artists will be notified when checks are received.

All work must be of original concept and design.

For Adults- Work created in an instructional setting, including, but not limited to, workshops and art classes, are not considered original artwork.

For Students- Elementary and High School student work from a class setting may be submitted.

Maximum entries, three (3). Entrance fee is the same for one, two or three entries. Elementary Teachers may submit work by three students for one entry fee with work titles and student names.

The artist , by submitting work to this competition, gives permission for the work to be reproduced and used for the purposes stated- Holy Card and promotion.

Work must have been created within the last 3 years.

Photographs of original Sculpture, glass, and other 3-D art work may be submitted.

Liabilities and Responsibilities: All entries will be made at the risk of the entrant. Care and caution will be exercised in the handling of all art work. Neither The Angelico Project nor The Archdiocese of Cincinnati may be held responsible for loss or damage. Insurance is the responsibility of the artist.
Competition Schedule
January 29, 2021, the Call goes active on CaFE
March 19, 2021, entries close
March 29, 2020 entrants notified of jury results
May 16- June 19, 2021 Holy Cards distributed during Bicentennial Marian Pilgrimage


The Angelico Project
PO Box 18092
Cincinnati, OH 45218
Print this Page
View Legal Agreement