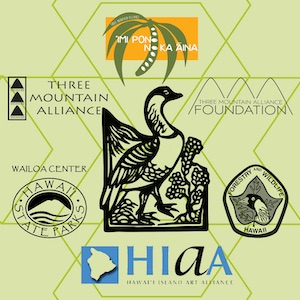 Hawaiʻi Nei Art Exhibition
200 Piopio St
Hilo, HI 96720
APPLY NOW
Contact Email:
hawaii.nei.art@gmail.com
Call Type:
Exhibitions
Eligibility:
Local
State:
Hawaii
Entry Deadline:
10/15/21
Days remaining to deadline: 77
REQUIREMENTS:
Media
Images - Minimum: 1, Maximum: 5
Total Media - Minimum: 1, Maximum: 5
Entry Fee (Hawaii Nei): $15.00

Media Fee (per sample over minimum):$15.00

Submission window closes: Friday, October 15, at 6:00 PM (HST).
Artist notification: Monday, October 18
Accepted artwork drop off:
Donkey Mill Art Center, Friday, October 29 at 10:00 AM.
Wailoa Center, Saturday, October 30 between 10:00 AM - 2:00 PM.
Eligibility: Open only to Hawaiʻi Island artists in all mediums and styles.
Subject:
The main subject(s) of your piece(s) must be a species native to Hawai'i Island which can include both indigenous (naturally occurs in other places) and endemic (specific to one place) species. Native species found ONLY on other islands will not be accepted. All species found from ridge to reef on the island are acceptable. Subjects from beyond the reef, including the deep ocean, will not be accepted. Artwork highlighting non-native species, including Polynesian introductions, will not be accepted. We discourage artwork made from native species to prevent unnecessary damage and over harvesting. If a native species is used as a medium in an art piece, we strongly suggest to consider the purpose of using the native species or consider if there is a possible alternative. Please consider the place from which the species will be gathered from - is there a healthy population from which to gather? We also encourage to request permission - from the land owner and species itself. And, in picking, be sure not to introduce invasive species into the area, only to take what is needed, minimize damage to surrounding species, and show gratitude. Any artwork made from an endangered species will not be accepted. If you have questions about whether your subject fits these parameters, please email Hawaii.Nei.Art@gmail.com.
The exhibition opens: Friday, Nov. 5
Open House: Friday, Nov. 5 from 1:00pm-6:00pm
The exhibition closes: Thursday Dec. 2
Artists must pick-up work:
Wailoa Center Friday, Dec. 3, between 10:00 AM - 2:00 PM
Donkey Mill Art Center Friday, Dec. 3, at 10:00 AM
Note: Maximum of five entries per artist, with $15 non-refundable entry fee for each submittal.
Jurors: Marilyn Nicholson, Sierra McDaniel & Brandy Serikaku
Prizes: Monetary prizes will be awarded.
Sales: All selected adult entries are required to be for sale; youth entries are not. If artwork is sold during the exhibition, 60% goes to the artist and 40% will go to the Hawai'i Island Art Alliance and the Three Mountain Alliance Foundation, which will help support fine arts in the community as well as native species protection and environmental education. Minimum sale price for artwork is $20. Artists may also donate their portion of the sale as a tax-deductible gift.
Print this Page
View Legal Agreement