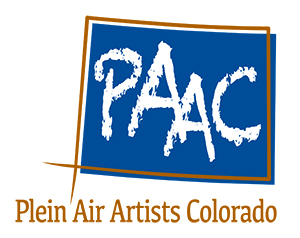 Plein Air Artists Colorado - Safer Outside Online Art Show and Sale
23784 Snowflake Rd
Cedaredge, CO 81413
Contact Email:
jennifer.riefenberg@gmail.com
Call Type:
Unspecified
Eligibility:
National
State:
Colorado
Entry Deadline:
3/21/21
Application Closed
REQUIREMENTS:
Media
Images - Minimum: 3, Maximum: 5
Total Media - Minimum: 3, Maximum: 5
Entry Fee (Plein Air Artists Colorado - Safer Outside Online Art Show and Sale): $25.00

Media Fee (per sample over minimum):$10.00

Online Show
April 1 – May 15, 2021
Safer Outside - Hope Springs Eternal
With the scourge of the pandemic, how wonderful that we, plein air artists, have not lost our ability to go outside and paint. Celebrate with our first online show Hope Springs Eternal.
AWARDS: Cash prizes will be awarded (based on entries)
Juror/Judge: Ron Donoughe
http://www.donoughe.com/Mark these dates on your calendar!
March 21, 2021 (Sunday): Deadline to submit entries at CaFÉ www.CallForEntry.org.
Last day for entries is March 21, 2021 at midnight, mountain time zone…no exceptions.
Jurying begins the following morning.
March 29, 2021: Entrants' notification letters will be e-mailed, and accepted artwork posted online thereafter.
ELIGIBILITY and REQUIREMENTS -
ELIGIBLE
· Open to all current PAAC Members.
Membership information: www.pleinairartistscolorado.com
· Must be two-dimensional media, excluding photography, fiber and digital media.
· Only original paintings completed "en plein air" in 2018, 2019 or until the deadline in 2021 are eligible.
NOT ELIGIBLE
· No studio paintings. Still life paintings will not be accepted unless clearly completed outdoors.
· Work done in class and/or under the guidance of an instructor is not eligible for entry.
· Works that have been exhibited in previous PAAC National shows are not eligible for entry.
· An artist who withdraws an entry after acceptance into the exhibition shall not be eligible to enter any PAAC exhibition for the two succeeding years.
· Digital images are assumed to be accurate representations of the entrant's original artworks. Artwork that differs markedly from the submitted image will be disqualified.

SALES
· Price specified in CaFE will be the price listed throughout the show and is a retail price FOR UNFRAMED ART; no late changes.
· Work MUST be available for sale. Any accepted work which is presold MUST be included in the show and PAAC notified of the sale at the time of sale and commission paid to PAAC.
· PAAC commission applies (20% PAAC) on all sales (pre- and during the duration of the show)
· All potential buyers are to contact PAAC who will then contact the artist. Sales will be arranged directly between the artist and the buyer, with the artist paying PAAC any commission for the sale. Framing option and shipping can be arranged solely between artist and buyer and are not included in commission to PAAC.
ENTRY REQUIREMENTS
By entering into the show, all participating artists agree to the requirements herein.
There will be no exceptions to deadlines, specs or rules.
Entry submission is through CaFÉ only. See below for details.
The artist retains copyright to his/her image(s), however, by submitting to this show, artist agrees to PAAC's use of the images for publicity (including future PAAC event promotion) and archival purposes.
Artist is responsible for completing the sale and collecting payment from the buyer. Artist will then remit payment to PAAC for the 20% commission of the entry (unframed) price.
All fees, for example, Member dues, Entry fees, etc. are non-refundable, whether or not work is accepted and/or presented for exhibition. Entry fees and current year dues must be received prior to jurying or application will not be deemed complete.
Artist is solely responsible for completing application through the CaFÉ system. Only completed applications with fees paid will be considered.
ENTRY FEES
Entry fees are Non-refundable
The fee to enter is $25 for up to 3 submissions and $10 for each additional image up to a Maximum of 5 images.
Example: maximum of five (5) entries = $45
Entry fees paid on CaFÉ site.
Artist may submit up to 5 images, but a maximum of 2 may be selected to hang in the show.
A minimum of 3 submissions is required by CaFÉ.
If entering only 1 or 2 images, fill in the remaining 1 or 2 entries with either blank JPGs sized to CaFE specifications, or use the same image and name it "Duplicate Entry."
All submissions are to be made online at CaFÉ.
CaFÉ INSTRUCTIONS
1. Open for entries through March 21, 2021, midnight (MST).
2. Register/Log In at https://www.callforentry.org/
Questions? Go to https://www.callforentry.org/artist-help-cafe/
3. Go to My Portfolio and upload your images.
o Your work is juried from the images you submit, so be sure they are good quality.
§ Blurry, poor quality images are not acceptable.
§ If in doubt, hire a professional photographer.
o Images should be cropped to only show the artwork, no frames.
o All images must be formatted to certain specifications in order to upload them successfully into the system. There is information on formatting images in CaFÉ Help. https://www.callforentry.org/uploading-images-audio-and-video-files/
4. Select up to 5 images from your image portfolio.
5. Then go to APPLY TO CALLS, sort by Application Deadline and scroll down to 3/21/21.
Or sort by Name, and scroll down to Plein Air Artists Colorado – Safer Outside
6. Click on VIEW MORE INFO or APPLY TO THIS CALL
7. Submit application. (answer questions)
8. Check Out: Pay the $25 (or $35 or 45) entry fee online with a credit card or a check payable to PAAC with "Show Entry" in the Memo line, and mail to:
Plein Air Artists Colorado
23784 Snowflake Road
Cedaredge, CO 81413
Please note: Your images will NOT be available to jury until we receive your check, so if you are paying by check, don't leave your entry until the last week. If entering at the last minute, you MUST pay with a credit card. The Jury starts one day after the deadline.
9. When application is submitted, artists immediately receive email notifications from CaFÉ
If you do not receive this email, you may not be entered. Check your spam folder first, and then check at CaFÉ.
10. If you have not paid your 2021 membership dues, you may go to https://pleinairartistscolorado.com/Join-or-Renew to pay online with a credit card. There are instructions there if you prefer to mail a check. You cannot pay your membership dues at CaFÉ.
11. You will receive notification on whether your artwork was accepted by March 29, 2021 via email from info@pleinairartistscolorado.com. Make sure this address is listed in your address book, or check your junk folder if you do not see it.
ACCEPTED ARTWORK
Price submitted into CaFE does NOT include FRAMING
Buyer will contact PAAC through information on website/online catalog who will then contact the Artist. From this point, the Artist makes all arrangements for sale to buyer, including shipping and framing options as needed/desired, and collection of payment.
LIABILITY
All entries will be made at the risk of the entrant.
Artists are responsible for insuring their work during transit.
Although PAAC and its members will use their best efforts to prevent such occurrences, neither PAAC, its members, nor any other organization connected with the show is responsible for loss or damage from any cause, including shipping, handling, transport.
Artwork submitted to the show must be held by the Artist and be made available for sale during the event.
By submitting this application, Artist is agreeing to these terms.
QUESTIONS?
Show info will be posted on the website: pleinairartistscolorado.com
Email: paacart@gmail.com
Print this Page
View Legal Agreement