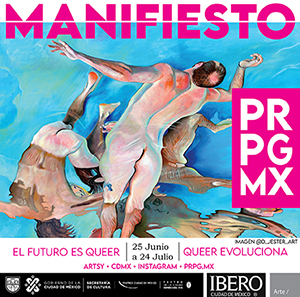 PRIDE EXHIBITION (LGBTQ+) | Manifesto - The Future is Queer
PROYECTOS GALERÍA Y PROYECTOS DE RESIDENCÍA
CALLE LUCERNA 1, COLONIA JUÁREZ
DELEGACIÓN, CUAUHTÉMOC, 06600
Contact Email:
michealswank@dabart.me
Call Type:
Exhibitions
Eligibility:
Unspecified
State:
Unspecified
Entry Deadline:
6/4/21
Application Closed
REQUIREMENTS:
Media
Images - Minimum: 3, Maximum: 20
Total Media - Minimum: 3, Maximum: 20
Entry Fee (Manifesto | PRIDE Exhibit): $45.00

Media Fee (per sample over minimum):$5.00

CALL | Manifestos are a powerful tool for transformation, framing politics, culture, imagining a desired future, giving momentum, and creating cohesion to a single voice. This call, this book and this exhibition is creating space for your manifesto to be presented as a collective during LGBTQ+ Pride 2021. We seek your authentic voice, of any visual medium, constructed with a vision of our shared future.
GALLERY
|
Proyecto Galería is a Dab Art Co. satellite gallery located in Colonia Centro, Mexico City. This densely populated and culturally significant neighborhood is a mecca for the city's art community. Though the original colonial style architecture is still prominent throughout the space, Proyecto Galeria has also been retro fitted with display walls that are more synonymous with contemporary U.S. galleries. Proyecto Galeria is housed in a 2 story old world style former residence, with a total combined exhibition space of 3000 sq ft. Proyecto Galeria is curated exclusively by Dab Art Co. curator Micheal Swank. Micheal's contemporary program focus's on artist's and artwork within (but not limited to) the LGBTQ+ community.
CURATOR |
Micheal Swank graduated from The School of the Art Institute of Chicago with a BFA - Printmaking and Design in 1998. In his design career he has been Art Director for California Tan (packaging), San Francisco Examiner (Hearst), Miller Huber Marketing, Joie de Vivre Hotels, S.F. Business Times, Disney, Dance Magazine, Pasadena Weekly, and others.
Micheal began to teach Graphic and Web Design in 2001 and decided to pursue teaching as a full time profession. In 2006, he completed his Masters in Technology from Pepperdine University, Malibu, CA. He led within the design education community as Academic Department Director, Graphic Design and Web Design Interactive Medias at the Art Institute of California Inland Empire, Art Institute of California San Francisco, and Associate Dean of Academics Art Institute of Houston - North. In January 2012, after a significant car accident caused him to reflect on his dreams to pursue his art, he left his position as Dean to live abroad, travel, learn, create, and reignite his passion for art. He has since lived in China, Mexico City DF; after spending two years focussing his practice in Ventura, CA Micheal relocated to Mexico City permanently in 2018. As a Dab Art Co. curator, Micheal's contemporary program focus's on artist's and artwork within (but not limited to) the LGBTQ+ community.
ONLINE EXHIBITION
|
Dab Art Co. Gallery Exhibitions and our Online Exclusive Exhibits garner views into the tens of thousands. In addition to the physical exhibit, this exhibition
will also be availble to view online in a 2 month long exhibit. Featured artists will have a visible profile and selected works will be listed on our online sales platform ARTSY.
Our long standing partnership with the online art sales platform ARTSY has proved to be an invaluable resource. With buyers from 130+ countries and an average transaction distance of over 3,000 miles, ARTSY has provided the connections needed to grow our collector base and increase sales. Our partner platform receives 2.2 million+ unique visitors every month across web and mobile which means artists and exhibitions featured by Dab Art Co. are well-positioned for optimal collector visibility. Dab Art Co. is in good company, Gagosian, Hauser & Wirth and Simon Lee also use this curated platform.
PUBLICATION | Artists selected for this exhibit will also be featured in a book published by Dab Art titled MANIFESTO. This full-color folio will be added to the permanent catalog in the LACMA (Los Angeles County Museum of Art) Balch Art Research Library.
LACMA |
The largest art museum in the western United States, LACMA's Balch Art Research Library maintains an extensive research-level collection of approximately 175,000 books, journals, periodicals and art publications. This non-circulating collection consists of monographs on artists and specialized art subjects; art reference books; collection and exhibition catalogues of museums, galleries, and private collectors; scholarly periodicals in the field of art and related areas; current auction catalogues; artist files; and material in related fields of study.
EXHIBITION |
Entries will be juried and selected based on technical application, originality and concept.
Finalists will be invited to show their work in a month long exhibition at Proyecto Galeria in Mexico City.
CALL TIMELINE ( Entries will be reviewed weekly)
May 30 - Call Officially Closes (11:59pm Mountain Time)***
***EXTENDED TO JUNE 4TH
June 5 - Final Selections Made & Notification of Selected Artists (via Email)
June 25 - Online and Gallery exhibition begins
July 25 - Gallery Exhibition Closes
August 25 - Online Exhibition Ends
ACCEPTED ARTWORK | Painting, Printmaking, Sculpture, Glass, Fiber, Functional, Digital, Photography, Installation, mixed media and New Genres. Proposals may include multiple disciplines.
CALL FEES |
Basic media fee is $45 for 3 images. Additional media may be added, the cost is $5 per image. No more than 20 images can be added.
SPECIFICATIONS |
All work must be original, unsold work, & the artist must own the sole copyright to art. Frames, mats & wiring must be professional quality & in good condition. No saw- tooth hangers. Wiring must be securely fashioned & support weight of the artwork. All accepted work must remain for the duration of the exhibit. 2D Artwork selected for exhibition MUST BE READY TO HANG. Unframed or improperly mounted work will not be accepted. The number of pieces varies depending on the artist's medium, sizes and shapes of selected work and available wall space. Every artist will be able to exhibit a sizable body of work so that they are well represented in the exhibition. The number of pieces can vary considerably.
SHIPPING (READ CAREFULLY) | Absolutely no packing peanuts. Crates, boxes, even small packages containing packing peanuts will be resealed & immediately shipped back to you, no exceptions. Artists are responsible for round-trip shipping & insurance (during shipping) of artworks. All shipments must include a prepaid UPS OR FED EX return label & be shipped in a container suitable to re-use for return shipping. Work sent through the US Postal Service, must include a shipping label, USPS stamps will not be accepted.
COMMISSION | Gallery retains a 50% commission on all exhibition sales in gallery & online. Artwork and artists selected for exhibition will be listed on the Dab Art Co.'s sales platform, Artsy. Our partnership with Artsy has greatly expanded our collector visibility, elevating the sales experience and volume.
You can view our Artsy page
HERE
.
SALES | All sales remittances are paid by the Dab Art Co.
Remittances
are sent after the close of exhibition. Payment to Artist will be provided within 60 days after the exhibit concludes and receipt of full payment from Buyer to Dab Art.
NOTIFICATIONS | Notifications are sent via email. Artists selected for an exhibition will be given sufficient time to prepare their work & make shipping or delivery arrangements prior to their exhibit date. Early applications are encouraged as exhibition considerations are made weekly.
ABOUT DAB ART CO. | In 2011 Yessíca Torres co-opened H Gallery + Studios in Ventura, California. As co-owner and chief curator of H Gallery, Yessíca's contemporary and modern program was a clear break from the conventional art scene that surrounded her. H Gallery's progressive gallery design and ambitious exhibition schedule were received with immediate regional success. Her program made H Gallery one of the most prevailing contemporary art spaces in the greater Los Angeles area.
With the revelation that art exposure should not be limited by physical location, Yessíca independently established the Dab Art Company in 2014. This distinctive art company is dedicated to enhancing the contemporary art experience for artists, collectors and viewers in and outside the traditional gallery setting. Dab Art embraces the relentless evolution of contemporary art by featuring experimental artists, highlighting innovative techniques and utilizing technological advances. Mainly focusing on mid-career to established artists, Dab Art's current inventory of international artwork is available for purchase online. Our partnership with Arsty has greatly expanded our collector visibility, elevating the Dab Art sales experience.
The Dab Art Co. headquarters and main Gallery are now located within the historic core of Downtown Los Angeles, in heart of the arts district and Gallery Row. Since it's initial launch, Dab Art has expanded from standard gallery exhibitions to art publications, artist talks, panel discussions, video profiles, exhibition videos and now, documentary filmmaking; featuring our most remarkable and distinguished artists. The Dab Art Co. is now an international art company with 4 locations in California, Texas and Mexcio City.
FOR MORE INFORMATION |
Visit
www.dabart.me
to find out more about the Dab Art Co. View our Exhibition Program, Artist Index, Curators, Venues and Films. We look forward to seeing your work!
Print this Page
View Legal Agreement