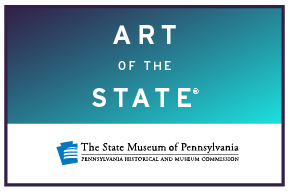 Art of the State: Pennsylvania
The State Museum of Pennsylvania
300 North Street
Harrisburg, PA 17120
Contact Email:
amhammond@pa.gov
Call Type:
Exhibitions
Eligibility:
Regional
State:
Pennsylvania
Event Dates:
0/0/00 - 0/0/00
Entry Deadline:
5/28/21
Application Closed
REQUIREMENTS:
Media
Images - Minimum: 0, Maximum: 4
Video - Minimum: 0, Maximum: 4
Total Media - Minimum: 1, Maximum: 4
Entry Fee (Art of the State: Pennsylvania ): $30.00

Art of the State, open to Pennsylvania artists and craftspeople, is an annual juried exhibition held at The State Museum of Pennsylvania. With an established tradition of exhibiting highly creative art chosen by a distinguished panel of jurors, Art of the State provides an opportunity for both established and emerging Pennsylvania artists to exhibit their art and receive statewide recognition.
Presented by The State Museum of Pennsylvania in cooperation with the Pennsylvania Heritage Foundation, the 54th Art of the State exhibition will offer cash awards for selected entries in the categories of Painting, Work on Paper, Photography & Digital Media, Sculpture and Craft.
The fee is $30 for up to 4 works of art. Note that the limit of 4 works to enter is different from prior years' rules for the exhibition.
FINAL DATE TO SUBMIT ENTRIES: Friday, May 28, 2021, 11:59 PM
Assistance will be available by e-mail and phone from 8:30 AM until 4:00 PM Monday through Friday.
Now that The State Museum will re-open to the public April 30, 2021, we plan to hold a physical, on-site art show in the galleries for Art of the State 2021. The exhibition will open September 26, 2021, and we anticipate that this later date will allow enough time to change course if the museum were to close again due to the pandemic. Please note that our participation agreement with artists for this call covers either an on-site or a virtual exhibition.
COMPETITION RULES
Eligibility
1. Artists must be current residents of Pennsylvania and 18+ years of age.
a. Work must have been created within the past (3) years (March 2018-March 2021).
b. Size is limited to 12 feet x 12 feet, 150 lbs. in all categories.
c. The work must be of the Participant's own original concept and execution. The work must be legally compliant with intellectual property law. If, for instance, the work contains copyrighted material, the work must be a fair use of the copyrighted material. If the work contains the copyrighted materials of others, the Participant must secure all permission prior to submission and furnish them upon request.
d. All work must be freestanding and/or ready to hang. The reverse side of two-dimensional paintings, photographs and works on paper must have a wire or D-rings for hanging.
e. All entry applications must be uploaded to Competition website.
f. All entry applications must include an insurance value of each work submitted. If the work could be for sale, the artist may submit a purchase price for each work. No insurance value may exceed the sale price.
2. The State Museum reserves the right to reject any work from the competition or withdraw any award distinction.
3. No substitutions are permitted.
4. A panel of three selection jurors representing various media will assign numeric scores through the online entry site. The art with the highest scores will be included in the exhibition. An awards juror will review the work and make the award selections.
5. All artists will be notified by e-mail of the judging results. Details for delivering or shipping of those works selected to be shown at The State Museum will be included in the notice. The artist may be responsible for installation of art if special conditions exist. The State Museum encourages the sale of exhibited work and does not take any commission. The museum collects information from interested buyers and connects the potential buyer to the artist. Payment must be arranged between artist and buyer. Art will not be available for pick up until the exhibition closes.
6. Awards are selected by the Awards Juror after accepted art has been installed at The State Museum. Award recipients will be contacted prior to the awards ceremony and are asked to refrain from making their own announcements prior to the reception.
7. Awards: A first prize of $500 and second prize of $300 will be awarded in each of the five categories (Painting, Sculpture, Craft, Works on Paper and Photography/Digital Media). The William D. Davis Memorial Award for Drawing in the amount of $250 and the Art Docents' Choice Award of $300 may be presented. The State Museum may select a Purchase Award by choosing a work for its permanent collection. Due to COVID-19 pandemic limitations on building capacity, The State Museum cannot guarantee that we will have an in-person, on-site opening ceremony and reception.
8. Refunds will not be issued after the close of the submission process.
CATEGORIES
Craft: Functional or decorative three-dimensional craft in any synthetic or natural media.
NOTE: Artists can only submit one image for each work. Artists with three-dimensional work may be asked to submit additional views.
Painting: Two-dimensional painting media including oil, acrylic, watercolor, encaustic, fresco, ink & wash, pastel, gouache and spray paint, painted on a two-dimensional surface.
Photography & Digital Media: Traditional and digital photographs, photographs printed on metal, and time-based media.
NOTE: Artists are required to provide a media player, speakers, and screen for exhibition display purposes for digital works.  Media should be programmed to play on a continuous loop. The media player should be equipped to start automatically, and to start and play when and if power is lost and returns.

Sculpture: Three-dimensional carved, molded, applied or constructed techniques using wood, glass, plaster, metal, stone, plastics, clay, soft or hard materials, found objects or natural materials. May include high and low bas relief, installations, kinetic sculpture and assemblage.
NOTE: Artists can only submit one image for each work. Artists with three-dimensional work may be asked to submit additional views.
Work on Paper: Two dimensional works specifically created on paper, includes drawing, collage, etching, lithograph, woodblock, screen print, serigraph, calligraphy, computer art on paper, graphic art, poster art, digital art print, digital collage, monotype, cut paper and pastel.
AWARDS
A First Place Award of $500 and a Second Place Award of $300 will be distributed in each of five categories.
Additional Awards
William D. Davis Memorial Award for Drawing: $250
The State Museum Art Docents' Choice Award: $300
TIMELINE
Thursday, March 25, 2021: Entry process open
Friday, May 28, 2021: Last day for entry (no late entries accepted)
Week of July 14, 2021: E-mail notifications of juror results
August 21-28, 2021: Art delivery
September 26, 2021: Exhibition opening
January 2, 2022: Exhibition closing
January 8-15, 2022: Art Retrieval

JURORS
Selection Jurors will review all art submitted. Those with the highest ratings will be featured in the exhibition. Selection jurors include:
Julia Dolan, Ph.D., The Minor White Curator of Photography, Portland Museum of Art
Portland, Oregon
Julia Dolan has curated, co-curated, or hosted over 40 photography exhibitions since joining the Portland Art Museum in 2010. She also oversees research of and acquisitions for the permanent collection, which currently holds more than 10,000 photographs. She is a member of the Museum's Equity Team, and was a co-founder of the FOCUS group, a North American network of emerging photography curators, historians, and nonprofit professionals.
Dr. Dolan received a B.F.A. in Photography from the Maryland Institute College of Art, an M.A. in Art History from the Pennsylvania State University, and a Ph.D. in Art History from Boston University. She has worked with the photography collections at institutions including the Philadelphia Museum of Art, the Addison Gallery of American Art, and the Fogg Art Museum at Harvard University.
For more information: https://portlandartmuseum.org/collection/curators/julia-dolan/
Joyce Owens, Artist, Educator, and former Curator, Chicago State University
Chicago, Illinois
Ragdale Fellow Joyce Owens is a painter from Philadelphia, now a Chicagoan, who creates 3-D and 2-D masks/assemblages, paintings on canvas and drawings. Her award-winning art has been exhibited on four continents, including NATO in Brussels, The African Union, Addis Ababa, Ethiopia; Monrovia, Liberia; Mbabane, Swaziland and in a traveling exhibition, "I American", curated by Sergio Gomez that was shown in a museum in Italy. Her art has been shown nationally from coast to coast. Some commissions include: the Blackstone Hotel and the Sofitel Hotel in Chicago, Hyde Park Art Center's "Not Just Another Pretty Face", TV show host Ed Gordon, and others including a recent portrait of Gwendolyn Brooks for the library named for Brooks at Chicago State University.
Owens has earned many awards including two 1st Prizes at Woman Made Gallery in Chicago from artist Faith Ringgold and Margaret Hawkins, Artnews correspondent. The two competitions had the most submissions in the history of the 25 year old gallery. Owens was awarded 1st Prize at the Museum of Science and Industry's annual Black Creativity art exhibition and other awards.
Her art has been featured on books of poetry, text books, and covers of scholarly journals.
Owens'earned an (MFA) from Yale University in New Haven, Connecticut and BFA, from Howard University in Wash., D.C. Some faculty who influenced her at Yale were Lester Johnson and Bernard Chaet, William Bailey and Al Held as well as musician Willie Ruff. While at Howard University she studied with preeminent African American artists and scholars who influenced her including the late Dr. David Driskell, Lois Mailou Jones, and sculptor Ed Love who was Owens' mentor until his premature death.
Known as a figurative artist deciding the most important work she can do is to address issues around race and gender.
Owens left her position as curator and associate professor at Chicago State University in 2015 to pursue art full-time.
For more information: https://www.framedgallery.net/artists/joyce-owens-26349
Matthew Hinçman, Professor & Program Area Coordinator, Sculpture | Furniture Design Certificate Program Coordinator, Massachusetts College of Art and Design
Boston, Massachusetts
Matthew Hinçman has been creating primarily self-funded works for the public sphere for over 25 years. By appropriating the language of the commonplace his interventions aim to disrupt the everyday and affect the way a space is conceived, known or experienced. He is Professor of Sculpture at the Massachusetts College of Art and Design, and former Chair of the Fine Arts 3D Program. While often easy to miss, two of his better known interventions - Jamaica Pond Bench, 2006, and STILL, 2014 - can be found in the Jamaica Plain neighborhood of Boston. His first major commissioned work for the CIty of Boston, Wythe & Web, will be completed in Spring of 2021.
For more information: https://massart.edu/node/5211

An awards juror will select recipients in each of the categories.
Al Miner, Director of Georgetown University Galleries and Associate Professor of the Practice
Washington, DC
Al Miner is the Founding Director/Chief Curator of the Georgetown University Art Galleries and Associate Professor of the Practice (Museum Studies). Miner oversaw the final construction and established the vision, policy and program of the Maria & Alberto de la Cruz Art Gallery, the University's flagship kunsthalle, which opened in August 2018. There he has organized acclaimed exhibitions including Jeffrey Gibson: DON'T MAKE ME OVER and Glenn Ligon: To be a Negro in this country is really never to be looked at. Additionally he programs the University's renovated project space, the Spagnuolo Gallery, and develops a wide range of cross disciplinary public programs inspired by the art and issues of our time.
Prior to assuming his current role, Miner spent seven years as a curator of contemporary art at the Museum of Fine Arts (MFA), Boston, where he curated Ori Gersht: History Repeating, and the award-winning Megacities Asia among other projects. Prior to the MFA, he spent five years in the curatorial division of the Smithsonian Institution's Hirshhorn Museum and Sculpture Garden. Miner has received fellowships and grants from numerous organizations including the National Endowment for the Arts, the Association of Art Museum Curators, and the American Alliance of Museums.
For more information: https://abminer.com/home.html

ABOUT US
The State Museum of Pennsylvania is adjacent to Pennsylvania's State Capitol building in Harrisburg. It offers exhibits and vast collections interpreting the state's heritage, art, and natural history. The State Museum is administered by the Pennsylvania Historical and Museum Commission (PHMC), the Commonwealth's official history agency.
The Pennsylvania Heritage Foundation (PHF) supports the work of the Pennsylvania Historical and Museum Commission who collects, preserves researches, and interprets the treasures of Pennsylvania. Through private contributions, PHF helps PHMC protect and provide access to PHMC's 23 historic sites and museums, approximately 5 million objects, and 237 million archival items. Pennsylvania's valued heritage is sustained through PHF.
CONTACT
Amy S. Hammond, Curator | Art of the State Project Director
The State Museum of Pennsylvania
300 North Street, Harrisburg, PA 17120
Phone: 717-772-2840 Email: amhammond@pa.gov
Print this Page
View Legal Agreement