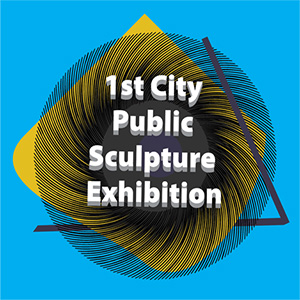 First City Public Sculpture Exhibition 2021
Northwest Territory Art Guild
316 Main Street
Vincennes IN 47591
Contact Email:
ajend2@me.com
Call Type:
Public Art
Eligibility:
National
State:
Indiana
Entry Deadline:
5/3/21
Application ClosedNumber of Applications Allowed:
2
REQUIREMENTS:
Media
Images - Minimum: 3, Maximum: 6
Total Media - Minimum: 3, Maximum: 6
Entry Fee (First City Public Sculpture Exhibition 2021): $10.00

SUMMARY
The Public Art Project in Vincennes, Indiana was formed in 2019 with the goal of bringing public art into the City of Vincennes. A consortium of four local galleries manages the project: Art Space Vincennes, LLC (project director); Northwest Territory Art Guild Gallery (Indiana Arts Commission grant applicant); Open Gallery; and Shircliff Gallery (part of Vincennes University). Since 2014, these galleries have collaborated on the First Friday Art Walks, which have contributed to an ongoing revitalization of the Main Street area. This second year of a three-year project is designed to bring art out of the galleries and into a public sphere where a wider audience can be reached. The galleries are assisted in this project by a committee of art professionals and community members representing a variety of stakeholders.
The Public Art Project presents an opportunity for sculptors from across the nation to submit up to two (2) entries to the First City Public Sculpture Exhibition of large-scale public sculpture to be installed in the City of Vincennes. Sculptures will be on loan for a period of three years, at the end of which time they will be picked up by the artists and new works will be rotated in. Artists will receive an honorarium totaling One Thousand Six Hundred Dollars and Fifty Dollars ($1,650.00) to help defray costs of transportation and installation. The honorarium will be distributed in three installments over the exhibition loan period.
GOALS
· Build on Vincennes' heritage of visual, cultural and historical assets
by bringing in the art of today.
· Help heal community trauma resulting from the ongoing COVID-19
pandemic.
· Bring art experience to as many segments of the population as
possible.
· Promote tourism.
· Support participating artists through exhibition publicity and potential
sales.
· Enhance the presence of area businesses and organizations.
· Continue to support downtown Vincennes' revitalization.
ELIGIBILITY
· All work must be original.
· Work entered must be exhibition ready. Sketches, renderings, or
plans for work not complete by entry submission date will not be
considered. Substitutions or works substantially altered from the entry
will not be accepted.
· All work must be available for sale.
· Work must be exhibited for the full length of the three-year loan
period as defined in the timetable of this prospectus.
· Work entered must be able to withstand unsupervised foot traffic,
severe weather conditions, and pose no threat to public safety.

· Works should be fitted with tabs for attachment to concrete pads with anchor bolts.
· Work must not require maintenance beyond annual cleaning.
· No size parameters.
ENTRY FEE

Entry fee is Ten Dollars ($10.00) for entry of one sculpture.
HOW TO APPLY AND TIMETABLE
All submissions are to be made through the Call for Entry site at www.CallForEntry.org (CaFE). Each submission will include:

1. Three digital images of the sculpture, each showing a different view of
the sculpture, plus optionally up to three additional digital images of
important details.
2. Size of the piece in H" x W" x D" format.
3. Brief artist statement, bio, and resume that can be used for publicity and
a documentary exhibition publication to be developed in 2023.
4. Description of any special installation issues, including equipment and
labor needs. The Vincennes City Engineer working with the Public
Sculpture Project Committee will determine sizes of concrete pads, to
meet standards of safety and aesthetics.
May 3, 2021 – SUBMISSION DUE through CaFE
May 4 – May 30, 2021 – Jurying process by Public Sculpture
Project committees
June 4, 2021 – Notifications to all sculptors
August 1 - September 4, 2021 – Delivery and installation of sculpture by
appointment
September, 2021 (Date TBA) - Outdoor reception for exhibition
August 12 & 13, 2024 – Pick up of sculpture by appointment
HONORARIUM
Each selected artist will receive an honorarium of One Thousand Six Hundred and Fifty Dollars ($1650.00) to help defray costs of transportation and installation. Five Hundred and Fifty Dollars ($550.00) will be payable at the time of installation, Five Hundred and Fifty Dollars ($550.00) payable one year later, and Five Hundred Fifty Dollars ($550.00) payable at the time of pickup at end of the exhibition. Each sculptor will receive one complimentary exhibition publication and will have the opportunity to purchase extra copies.
EXHIBITION GUIDELINES
1. The exhibition will be juried in a three-step process. All entries will be presented to the jury anonymously. A panel of arts professionals will determine finalists. The full committee of the Public Sculpture Project will make final selection of sculptures and determine sites appropriate for each accepted piece. City officials will review accepted entries for safety and installation issues.
2. Selected works will be exhibited in outdoor settings in the city of Vincennes, Indiana. Works should be fitted with tabs for attachment to concrete pads.
3. Artists are responsible for and must be present for timely installation and removal of all works by appointment. Project staff members will provide on-site assistance, as needed.

4. Images of accepted works will be deemed available to the Public Sculpture Project for archiving, exhibition publication, and publicity purposes.
5. A reception/celebration of all installed pieces is tentatively scheduled for a date to be established. This in-person reception will only occur if the Public Sculpture Project managers determine it can be done safely and in accordance with any Indiana state regulations in regard to COVID-19 then in place.
6. General cleaning and maintenance of sculptures and sites will be provided by the Public Sculpture Committee staff and site owners. Maintenance requiring the judgment and expertise of the artist will be performed or directed by the artist as needed. Artists are responsible for any expenses related to repair of sculpture.
7. Works not retrieved by the stated removal date will become the property of the Northwest Territory Art Guild unless other arrangements are made in writing and with the consent of the Public Sculpture Project committee.
SALES
Sales of works will be encouraged and promoted.
The Public Sculpture Project will handle all sales and will retain a twenty-five percent (25%) commission on works sold from the exhibition or as a result of exhibition participation.
Print this Page
View Legal Agreement