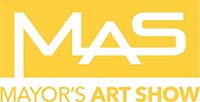 2021 Mayor's Art Show
99 W. 10th Avenue, Suite 116
Eugene, OR
97401
Contact Email:
CSantiago@eugene-or.us
Call Type:
Public Art
Eligibility:
Local
State:
Oregon
Entry Deadline:
6/1/21
Application Closed
REQUIREMENTS:
Media
Images - Minimum: 1, Maximum: 8
Video - Minimum: 0, Maximum: 1
Total Media - Minimum: 1, Maximum: 8
OVERVIEW
The Mayor's Art Show (MAS) is part of a larger celebration of contemporary visual art, artists and the City's public spaces. MAS celebrates local artists, art production and champions the visual arts. MAS recognizes the accomplishments of artists who are committed to enriching their communities through visual arts. Our intention is to cultivate diversity, equity, and access to the visual arts and artists. We envision a city of citizens whose success, safety and health are not pre-determined by their race, class, sexual orientation, gender, age, mental or physical ability.

JURORS​
A panel of artists and art professionals will review all applications. Artists will be notified by early June. Awards will be given based on the consideration of the following criteria: conceptual strength, artistic merit, innovation, craftsmanship and materials.
Awards are:
Juror's Choice

Peoples' Choice

Curator's Choice
ELIGIBILITY​ ​+​ ​ENTRY​ ​FEES​
Submission is FREE

Artwork must be available to photograph in late June. Exact date and location TBD.

This exhibition is open to all residents who live or work in the City of Eugene and artists who work or have exhibited in Eugene in the past.

We are accepting 2D, 3D and digital artworks. (Digital must be self contained and managed by the artist).

Artist may submit images of one artwork for the jury to consider.

Images:
2D work must include one image (one additional detail image may be included for a total of two images)

3D must include two to four images (one additional detail image may be included for a total of three to five images).
Work must have been completed since January 1, 2019.

The curator reserves the right to refuse artworks at any time during the processes: submission, selection, intake and installation.
HOW TO SUBMIT WORK
Entries may be submitted through the web-based CaFE application system March 31, 2021 through May 28, 2021. CaFe is an online application and jurying system used by organizations and galleries for national and international calls for entry for public art projects, artist fellowships, juried visual art competitions and exhibitions. Applicants have access to hundreds of call for entry opportunities. It allows artists to easily and efficiently manage their submissions and applications. Registration is FREE and makes it easy to apply to entries.

PHOTOGRAPHIC​ ​GUIDELINES​
Artists are strongly encouraged to submit images for this call that present work to its best advantage. Photographs should give a sense of how the piece "sits" or "hangs." Detailed photographs are important to show the technical excellence of the work; they can highlight special areas that might not be obvious in the full shot of the work. Works accepted in the exhibition must be available to be photographed individually or in exhibition installation shots for advertising and publicity during the entire run of the exhibition. The curator reserves the right to refuse artworks at any time during the processes of submission, selection, intake and installation.
SALES​
PLEASE NOTE THAT PRICE AND/OR VALUE OF AN ACCEPTED ENTRY MAY NOT BE CHANGED AFTER IT IS SET. This can feel problematic if the cost of framing is not considered and included in price. Work should be marked "NFS" if it is not available for purchase. Please include value of work for insurance purposes. All objects sold must remain on display for the duration of the exhibition. There is a 25% commission. Artwork can be shipped. Shipping costs are determined by the size and value of the piece.

Help for artists
To learn more about writing an artist statement, I recommend Art-Write:The Writing Guide for Visual Artists. It teaches artists how to write about their own artwork. The book offers a step-by-step approach to create a professional artist statement, with thinking and writing exercises to ease the process and develop authentic and clear content.
https://www.amazon.com/Art-Write-Writing-Guide-Visual-Artists/dp/1937303128
Please add Passionate Painter Podcast Episode 21: Vicki Krohn Amorose Demystifies Writing and Speaking About Your Art https://www.carolineitalia.com/podcast/
Print this Page
View Legal Agreement