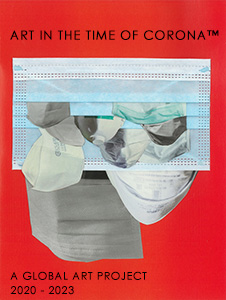 (APR)ART IN THE TIME OF CORONA™ | A Global Art Project
Dab Art Co.
334 S Main Street, No. 5001
Los Angeles, California 90013
Contact Email:
info@dabart.me
Call Type:
Exhibitions
Eligibility:
International
State:
California
Entry Deadline:
4/30/21
Application Closed
REQUIREMENTS:
Media
Images - Minimum: 3, Maximum: 20
Total Media - Minimum: 3, Maximum: 20
Entry Fee (ART IN THE TIME OF CORONA™ | A Global Art Project): $35.00
Admin (Optional Consultation Fee): $100.00

Media Fee (per sample over minimum):$5.00

ART IN THE TIME OF CORONA™ | A Global Art Project
In April of 2020, the Dab Art Co. has launched an exclusive and unprecedented art project called ART IN THE TIME OF CORONA™ in respose to the unfolding pandemic. This 3 year comprehensive project is now moving into 2021. The second year of this project will include an ongoing online exhibition, a full color publication of all selected works, a multi-gallery, international exhibition and a documentary film short featuring selected artists.
Director and curator in chief Yessíca Torres wrote and released an essay about the importance of art and artists in a turbulent time. For almost 10 years Yessíca's passion for contemporary art and commitment to the exploration of the artist process have been reflected in her gallery program, taking a progressive and in some ways rebellious approach to art exhibitions. Her mission with ART IN THE TIME OF CORONA™ proposes an unconventional solution to keeping contemporary art relevant, propelling the art experience forward and promoting the valuable role artists will play in this time of global crisis.
The goal of this innovative project is to record and exhibit (in real time) defining artwork created during civil uncertainty. Her hope is to unite viewers and help them find the sanctity, comfort and inspiration needed to heal a world in turmoil.
We are hopeful as a company and as members of our respective communities, that when current mandates and quarantines are lifted, our resilience as artists will be the foundation for social unity.
This project will be ongoing with exhibitions (online/ in gallery) and corresponding films divided into 3 years.
PHASE 1
Artists and artworks will be reviewed, juried and added monthly. Online visitors and collectors will be able to see brand new art work maximizing the viewing audience and keeping the exhibition fresh. The online exhibition will continue to run through march of 2023. Our hope and goal with this project that artists will continue to create defining artwork throughout this time of unrest.
All artists and artwork selected will be featured on our website and our international sales platform ARTSY. The Dab Art Co. Galleries and Online Exhibits already garner views into the tens of thousands (views are expected to grow exponentially during this time of "shelter in place" mandate). Our partner platform ARTSY currently receives 2.2 million+ unique visitors every month which means artists and exhibitions featured by Dab Art Co. are well-positioned for optimal collector visibility. Dab Art Co. is in good company, Gagosian, Hauser & Wirth and Simon Lee also use this collector platform. You can view our Artsy page HERE.
Artists selected for interviews will be given advanced noticed and time to prepare for a recorded online discussion with the curator.
PHASE 2
After the second year's final selections are made in December 2021, we will be publishing a full color 8.5x11 in. art book titled after the project, ART IN THE TIME OF CORONA™ | Vol. II . This publication will include all the works selected for the online exhibit, artist interviews, juror commentary, curator notes and the project mission and released in February of 2022. The book will also be added to the permanent catalog in the LACMA Balch Art Research Library. (Read more about LACMA below) We will be publishing a book for each year of the project.
The largest art museum in the western United States, LACMA's Balch Art Research Library maintains an extensive research-level collection of approximately 175,000 books, journals, periodicals and art publications. This non-circulating collection consists of monographs on artists and specialized art subjects; art reference books; collection and exhibition catalogues of museums, galleries, and private collectors; scholarly periodicals in the field of art and related areas; current auction catalogues; artist files; and material in related fields of study.
10 of the artists from the online show will receive an additional feature (bio, artist photo and curator notes) in the publication. The 10 artists featured will be selected by the Dab Art Co. director and receive hardback copy of the exhibition book.
PHASE 3
The Dab Art Co. curators will collectively make selections for a multi gallery 8 week exhibition to be held simultaneously in 3 cities at all the Dab Art Co. Galleries; Los Angeles, Ventura and Mexico City. The gallery exhibition will be scheduled for the spring 2022.
The Dab Art Co. film production team will be producing documentary film short as well. We will be asking for artist participation, gathering footage and stories as the year progresses. Dab Art Co. will screen the film in Los Angeles, California.
PROJECT TIMELINE
(Exact Dates for Phase 2 & 3 will be made as far in advance as possible.)
ONLINE EXHIBITION | Online Exhibition will run through 2023.
GALLERY EXHIBITION NOTIFICATION | Year Two selections made by January 31, 2022
PUBLICATION RELEASE | February 2022 (Year Two)
GALLERY EXHIBITION | Spring 2022 (3 locations; Los Angeles, Ventura, Mexico City)
FILM SCREENING | April 2022 (Los Angeles)
ACCEPTED ARTWORK | Painting, Printmaking, Sculpture, Glass, Fiber, Functional, Digital, Photography, Installation, mixed media and New Genres. Proposals may include multiple disciplines.
CALL FEES | Basic media fee is $35 for 3 images. Additional media may be added, the cost is $5 per image. No more than 20 images can be added. Artists may submit more than once.

OPTIONAL CONSULTATION | If you would like to discuss your submission in detail, you may consider selecting our optional consultation with the gallery director at checkout. The director will discuss your submission in depth, reviewing your website, social media accounts, written biography, artist statements and any additional images the artist may provide. The director will also discuss any professional goals or questions about our industry from the gallery perspective. This consultation is is designed to help improve your overall online presence and increase exhibition invitations through critical and constructive feedback. The fee for our optional consultation with the director is $100.00 (USD). Consultation times vary based on the artists needs and information provided, but are limited to 1 hour maximum. Each consultation is conducted and recorded via Zoom and artists are provided with a copy of the recorded consultation for their reference. The gallery will confirm that your consultation fee has been paid through CaFE prior to your appointment. You will have 90 days to schedule your consultation, scheduling link is provided in the question portion of this submission. Please note that regardless of your invitation status at the close of the call, consultations are non-refundable. Our consultations are completely optional, offered with the intention of helping artists inmprove their online submissions and have absolutely no bearing on final selections.
CONSIDERATIONS | Though this will be a rolling open call, we will set a weekly deadline to keep us organized. However, considerations and selections will be made daily.
SUBMISSION TIP | A comprehensive and detailed submission will include at least 3 images, biography and artist statement. We want to highlight the artists, not just the artwork.

SUBMISSION NOTE | All work slected online must remain availble for sale for the entirety of this project. This clause will be written into the legal agreement.
NOTIFICATIONS | Notifications are sent via email within 2 weeks after the close of each calendar month. Notifications for the In Gallery Exhibitions will be sent by January 31, 2022. Artists selected for the gallery exhibition will be given sufficient time to prepare their work & make shipping or delivery arrangements prior to the exhibit date.
GALLERY REQUIREMENTS | All work must be original, unsold work, & the artist must own the sole copyright to art. Frames, mats & wiring must be professional quality & in good condition. No saw- tooth hangers. Wiring must be securely fashioned & support weight of the artwork. All accepted work must remain for the duration of the exhibit. 2D Artwork selected for exhibition MUST BE READY TO HANG. Unframed or improperly mounted work will not be accepted. The number of pieces varies depending on the artist's medium, sizes and shapes of selected work and available wall space. Every artist will be able to exhibit a sizable body of work so that they are well represented in the exhibition. The number of pieces can vary considerably.
SHIPPING REQUIREMENTS | Absolutely no packing peanuts. Crates, boxes, even small packages containing packing peanuts will be resealed & immediately shipped back to you, no exceptions. Artists are responsible for round-trip shipping & insurance (during shipping) of artworks. All shipments must include a prepaid UPS OR FED EX return label & be shipped in a container suitable to re-use for return shipping. Work sent through the US Postal Service, must include a shipping label, USPS stamps will not be accepted.
COMMISSION | Gallery retains a 50% commission on all exhibition sales in gallery & online. Artwork and artists selected for exhibition will be listed on the Dab Art Co.'s sales platform, Artsy. You can view our Artsy page HERE.
SALES | All sales remittances are paid by the Dab Art Co. Remittances are sent after the close of exhibition. Payment to Artist will be provided within 60 days after the exhibit concludes and receipt of full payment from Buyer to Dab Art.
SELECTIONS | Artists selected for an exhibition will be given sufficient time to prepare their work & make shipping or delivery arrangements prior to their exhibit date. There is no maximum or minimum number of artists for our roster and artist selection is ongoing. Early applications are encouraged as exhibition considerations are made monthly.

QUESTIONS | Please email atc@dabart.me for all inquiries regarding this call (questions about your status, late entries, additional entries, consultation appointments, etc.) Be sure to include the name on your CAFE account and date of submission.
FOR MORE INFORMATION | Visit www.dabart.me to find out more about the Dab Art Co. View our Exhibition Program, Artist Index, Curators, Venues and Films. We look forward to seeing your work!
Print this Page
View Legal Agreement