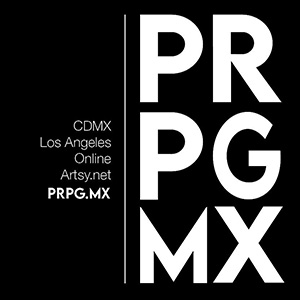 2021 Summer Exhibitions & Artist Residency | Mexico City
PRPG.mx
CALLE LUCERNA 1, COLONIA JUÁREZ
DELEGACIÓN, CUAUHTÉMOC, 06600
APPLY NOW
Contact Email:
info@dabart.me
Call Type:
Exhibitions
Eligibility:
International
State:
Unspecified
Entry Deadline:
4/25/21
Days remaining to deadline: 2
REQUIREMENTS:
Media
Images - Minimum: 3, Maximum: 20
Total Media - Minimum: 3, Maximum: 20
Entry Fee (Gallery Exhibitions & Artist Residency | Mexico City): $35.00
Admin (Optional Consultation ): $75.00

Media Fee (per sample over minimum):$5.00

GALLERY | Proyectos Galería (
PRPG.mx) is a Dab Art Co. satellite gallery located in Colonia Juárez, Mexico City. This densely populated and culturally significant neighborhood is a mecca for the city's art community. Though the original colonial style architecture is still prominent throughout the space, PRPG.mx has also been retro fitted with display walls that are more synonymous with contemporary U.S. galleries. Housed in a 2 story old world style former residence, with a total combined exhibition space of 3000 sqft, PRPG.mx is curated exclusively by Dab Art Co. curator Micheal Swank. Micheal's contemporary program focus's on artist's and artwork within (but not limited to) the LGBTQ+ community.
ARTIST RESIDENCY |
Artists selected for exhibition will also recieve a one week virtual artist residency.
Normal structures of our studio practices have been interrupted. Whether self-imposed or imposed from outside forces, the world is in quarantine. Artists are craving connection and creativity. In response to the outcry, Dab Art co. and Proyectos Galería has launched
The Virtual Artists' Residency.
Our goal is to connect globally, create a discipline for your studio practice, and a voice to unify your experience. The technology exists and we are going to maximize and amplify!
PRPG.mx
was orginally created by Dab Art Co. curator Micheal Swank. His highly successful residency program in Mexico CIty has been attended by artists from all over the world. Post outbreak, Micheal has teamed up with the Dab Art Co. and reformattted his residency experience for the new online era of remote learning.
CURATOR |
Micheal Swank graduated from The School of the Art Institute of Chicago with a BFA - Printmaking and Design in 1998. In his design career he has been Art Director for California Tan (packaging), San Francisco Examiner (Hearst), Miller Huber Marketing, Joie de Vivre Hotels, S.F. Business Times, Disney, Dance Magazine, Pasadena Weekly, and others. Micheal began to teach Graphic and Web Design in 2001 and decided to pursue teaching as a full time profession. In 2006, he completed his Masters in Technology from Pepperdine University, Malibu, CA. He led within the design education community as Academic Department Director, Graphic Design and Web Design Interactive Medias at the Art Institute of California Inland Empire, Art Institute of California San Francisco, and Associate Dean of Academics Art Institute of Houston - North. In January 2012, after a significant car accident caused him to reflect on his dreams to pursue his art, he left his position as Dean to live abroad, travel, learn, create, and reignite his passion for art. He has since lived in China, Mexico City DF; after spending two years focussing his practice in Ventura, CA Micheal relocated to Mexico City permanently in 2018.
ACCEPTED ARTWORK | Painting, Printmaking, Sculpture, Glass, Fiber, Functional, Digital, Photography, Installation, mixed media and New Genres. Proposals may include multiple disciplines.
CALL FEES |
Basic media fee is $35 for 3 images. Additional media may be added, the cost is $5 per image. No more than 20 images can be added.
OPTIONAL CONSULTATION
| If you would like to discuss your submission in detail, you may consider selecting our optional consultation with the gallery curator at checkout. The curator will discuss your submission in depth, reviewing your website, social media accounts, written biography, artist statements and any additional images the artist may provide. The curator will also discuss any professional goals or questions about our industry from the gallery perspective. This consultation is is designed to help improve your overall online presence and increase exhibition invitations through critical and constructive feedback. The fee for our optional consultation with the curator is $75.00 (USD). Consultation times vary based on the artists needs and information provided, but are limited to 1 hour maximum. Each consultation is conducted and recorded via Zoom and artists are provided with a copy of the recorded consultation. The gallery curator will confirm that your consultation fee has been paid through CaFE prior to your appointment. You will have 90 days to schedule your consultation, scheduling link is provided in the question portion of this submission. Please note that regardless of your invitation status at the close of the call, consultations are non-refundable. Our consultations are completely optional, offered with the intention of helping artists inmprove their online submissions and have absolutely no bearing on final selections.
CONSIDERATIONS |
Entries on or before 4/30/2021 are for upcoming exhibtiion consideration at PRPG.mx. Entries are reviewed weekly.
SPECIFICATIONS |
All work must be original, unsold work, & the artist must own the sole copyright to art. Frames, mats & wiring must be professional quality & in good condition. No saw- tooth hangers. Wiring must be securely fashioned & support weight of the artwork. All accepted work must remain for the duration of the exhibit. 2D Artwork selected for exhibition MUST BE READY TO HANG. Unframed or improperly mounted work will not be accepted. The number of pieces varies depending on the artist's medium, sizes and shapes of selected work and available wall space. Every artist will be able to exhibit a sizable body of work so that they are well represented in the exhibition. The number of pieces can vary considerably.
SHIPPING (READ CAREFULLY) | Absolutely no packing peanuts. Crates, boxes, even small packages containing packing peanuts will be resealed & immediately shipped back to you, no exceptions. Artists are responsible for round-trip shipping & insurance (during shipping) of artworks. All shipments must include a prepaid UPS OR FED EX return label & be shipped in a container suitable to re-use for return shipping. Work sent through the US Postal Service, must include a shipping label, USPS stamps will not be accepted.
COMMISSION | Gallery retains a 50% commission on all exhibition sales in gallery & online. Artwork and artists selected for exhibition will be listed on the Dab Art Co.'s sales platform, Artsy. Our partnership with Artsy has greatly expanded our collector visibility, elevating the sales experience and volume.
You can view our Artsy page
HERE
.
SALES | All sales remittances are paid by the Dab Art Co.
Remittances
are sent after the close of exhibition. Payment to Artist will be provided within 60 days after the exhibit concludes and receipt of full payment from Buyer to Dab Art Co.
NOTIFICATIONS | Notifications are sent via email within 2 weeks after the close of each calendar month. Artists selected for an exhibition will be given sufficient time to prepare their work & make shipping or delivery arrangements prior to their exhibit date. Early applications are encouraged as exhibition considerations are made weekly.
QUESTIONS |
Please email mxc@dabart.me for all inquiries regarding this call (questions about your status, late entries, additional entries, consultation appointments, etc.) Be sure to include the name on your CAFE account and date of submission.
ABOUT DAB ART CO. |
In 2011 Yessíca Torres co-opened H Gallery + Studios in Ventura, California. As co-owner and chief curator of H Gallery, Yessíca's contemporary and modern program was a clear break from the conventional art scene that surrounded her. H Gallery's progressive gallery design and ambitious exhibition schedule were received with immediate regional success. Her program made H Gallery one of the most prevailing contemporary art spaces in the greater Los Angeles area. With the revelation that art exposure should not be limited by physical location, Yessíca independently established the Dab Art Company in 2014. This distinctive art company is dedicated to enhancing the contemporary art experience for artists, collectors and viewers in and outside the gallery setting. Dab Art embraces the relentless evolution of contemporary art by featuring experimental artists, highlighting innovative techniques and utilizing technological advances. Mainly focusing on mid-career to established artists, Dab Art's current inventory of international artwork is available for purchase online. Our partnership with Arsty has greatly expanded our collector visibility, elevating the Dab Art sales experience. In 2019 Yessíca made the move from Ventura to Los Angeles proper. The Dab Art Co. headquarters and main Gallery are now located within the historic core and heart of the arts district in Downtown Los Angeles. Since its initial launch, Yessíca has expanded Dab Art from simple gallery exhibitions to art publications, artist talks, panel discussions, video profiles, exhibition videos and now, documentary filmmaking; examining the process and identity of artists. Dab Art Co. has 3 locations in California and Mexico City providing ample opportunity for artists. Including; exhibitions, solo shows, online features, movie set rentals and publications.
FOR MORE INFORMATION |
Visit
www.dabart.me
to find out more about the Dab Art Co. View our Exhibition Program, Artist Index, Curators, Venues and Films. We look forward to seeing your work!
Print this Page
View Legal Agreement