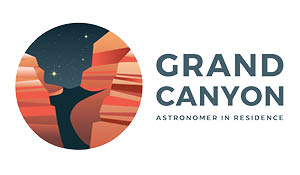 Grand Canyon Astronomer in Residence
PO Box 399
Grand Canyon, AZ 86023
APPLY NOW
Contact Email:
residency@grandcanyon.org
Call Type:
Residencies
Eligibility:
National
State:
Arizona
Entry Deadline:
6/30/21
Days remaining to deadline: 48
REQUIREMENTS:
Media
Images - Minimum: 3, Maximum: 10
Audio - Minimum: 0, Maximum: 3
Video - Minimum: 0, Maximum: 3
Total Media - Minimum: 3, Maximum: 10
Entry Fee (Application fee): $30.00

The program is similar to the Artist in Residence Program hosted by various national parks. The difference is that the primary focus is on night skies, astronomy, and the various disciplines studying natural darkness. Not only are artists encouraged to apply, the Astronomer in Residence Program also invites educators, advocates, scientists, and other outreach disciplines to share their expert knowledge, inspiration, and equipment with park visitors.
Here are some examples of possible residencies:
You are an amateur astronomer with impressive telescopes and vast experience with outreach. You would like to provide your expertise to park visitors for two weeks through nightly public talks and informal telescope-viewing on the rim of the canyon.
You are an astrophotographer. You would like to provide the park with professional-quality time-lapses and fine art night photography to be used on Grand Canyon Conservancy (GCC) and the park's website and social media sites. You provide at least two public workshops on night sky photography during your stay.
You are an outreach astronomer. You'd like to spend your residency providing constellation talks to the public. You also produce a daily series of short videos on how to live a night-sky-friendly lifestyle to be used on GCC and the park's social media sites.
You are a visual artist who wants to install a conceptual art piece about night skies and light pollution at the visitor center. You provide a few public workshops on your craft.
You are a composer who wants to write a series of nocturnes inspired by Grand Canyon night skies. You present a public performance of some famous nocturnes during your residency.
You are a writer or a scientist. You would like to write a piece about the effects of living in a dark environment on our sleep and well-being. You present at least two public presentations in the park. You publish the piece in Grand Canyon Conservancy's magazine, Canyon Views.
The possibilities are endless! We are open to all sorts of creative proposals. The goal is for the applicant to be inspired by the night skies at Grand Canyon and to share that inspiration with park visitors as well as with their own followers.

The resident will be selected based on the following criteria:
Artistic merit, track record of past accomplishments, and the quality and nature of the work samples provided
How the work plan is inspired by and will contribute to broadening our understanding of Grand Canyon night skies
How the work plan and public programs foster the appreciation of

the values of dark night skies, spreads awareness about the threats of light pollution, and explores society's complex relationships with natural darkness
Learn more at https://www.grandcanyon.org/astronomer.

Work Samples
Please select from the following work samples that are appropriate to your practice. The category headings are guidelines. Submit whatever type of materials best represent your work. All files each need to be labeled with your name, the title of the work, and the year it was created. For example: JaneDoe_StudyinRed_2021. For multiple images of the same artwork, please add the number at the end of the file name. JaneDoe_StudyinRed_2020_1.
Applicants also supply a worklist in a PDF form that includes title, year, medium, and size/length (as relevant) for each work sample provided. This may also include a brief description of each work of no more than 2-3 sentences. Please do not provide links to websites or cloud storage.
Specifications
Educational content (lecture, PowerPoints, podcasts, public programming)
Applicants may submit up to five recorded lectures, PowerPoint presentations, podcast examples, and any other examples of public outreach in relation to dark skies.

Visual Art (two and three-dimensional photography, sculpture, painting, textiles, drawing, collage, installation or land-based art, or printmaking).
Applicants may submit up to 10 work samples (minimum 3), which can be a combination of images, video, or audio files (maximum of 10 minutes of video and audio).

Writing (poetry, fiction, essays, storytelling, or playwriting).
Submit up to 5 pages of poetry, 5 pages of prose, or a 5-page excerpt of one full-length play or script. A minimum of 3 pages should be submitted. The entire play/script may be submitted in addition, however, it may not be reviewed in totality.

Film / Video / New Media
Submit up to 10 minutes of video (minimum five minutes), along with any other material that adequately describes your work.

Audio (music, singing, composition)
Submit up to 10 minutes of audio and/or video (minimum five minutes) along with any other material that adequately describes your work.

Arts Professionals (art writers and curators)
Submit sufficient material to evidence the breadth of your work and interests, including reviews, essays, and catalogs.

Interdisciplinary arts, Indigenous arts, ethnographic fine art, social practice arts
Review other categories above to determine an appropriate quantity of materials that are in keeping with the disciplines listed while giving an accurate representation of your practice.

Performance art, choreography, dance, theater
Submit up to 10 minutes of video (minimum five minutes), along with any other material that adequately describes your work.
Print this Page
View Legal Agreement