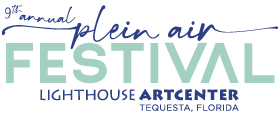 Lighthouse ArtCenter Plein Air Festival March 27th- April 2nd, 2022
373 Tequesta Dr. Tequesta, FL 33469
Contact Email:
info@lighthousearts.org
Call Type:
Competitions
Eligibility:
International
State:
Florida
Entry Deadline:
8/25/21
Application Closed
REQUIREMENTS:
Media
Images - Minimum: 4, Maximum: 4
Total Media - Minimum: 4, Maximum: 4
Entry Fee (Lighthouse ArtCenter): $40.00

The Lighthouse ArtCenter of Tequesta, Florida proudly presents its 9th Annual Lighthouse ArtCenter Plein Air Festival. March 27th- April 2nd, 2022. This juried event is a premiere gathering; the largest of its kind in South Florida.
Some of the highlights of the event:
· Last year's Grand Prize winner, Eli Cedrone
· Event sold over $160,000 in art during the weeklong event.
· $15,000 in cash and awards, Grand Prize $4,000 cash plus prizes.

· Paint Out contest, first prize of $500, awards for both Professionals and Open Class. No charge to enter Paint Out for artists who apply to the Festival.
· There will be 30 juried artists participating.
· Five days and nights of painting in beautiful Jupiter/Tequesta, Palm Beach and Port Salerno, Florida with opportunities to paint sunrises, sunsets and nocturnes.
· Artist Orientation and Welcome Dinner.
· Collectors' Party and Sale, small work sale, and a live painting event.
· Dedicated sales staff to aid and expedite sales.

· National promotional ads in Plein Air & Fine Art Connoisseur Magazines, as well as state and regional magazine and news publications

· Artist are encouraged to bring two, never-before-exhitbited, paintings of your choice to be displayed in the Schorr Gallery.

Artists are required to submit FOUR samples of their best plein air work, so they may be considered for inclusion in this multi-day event and be eligible for cash and prize awards. The competition is open to all artists working with oil, acrylic, watercolor or pastels.
Artists who are selected to participate in the event will receive a booklet of detailed information after the August notifications.
Important dates, deadlines and Festival schedule:
Wednesday, August 25, 2021 - Last day for juried entry application
Friday, August 31, 2021 - Notification of juried acceptance
Sunday, March 27, 2022– Lighthouse ArtCenter Gallery
· 9:30 am -1:00 pm -Paint Out Contest, Ann Norton Sculpture Garden in West Palm Beach Open to the public with registration. Registration is required for juried artists, but the entry fee is waived.
· 12:00 pm- Judging
· 12:00 pm – 1:00 pm Award Ceremony and Wet Painting Sales
· 4:00 pm to 5:30 pm - Stamping of canvases at Lighthouse ArtCenter Gallery
· 5:30 pm to 7:00 pm – Welcome dinner for Juried Artists
Monday – Thursday, March 29 to April 1st, 2022
· Competition Painting at multiple locations.*
· Wet Painting drop-off and viewing at the ArtCenter Gallery, art for sale to the public*
Friday, April 1st, 2022
· 10:00 am – Drop off of final paintings at the ArtCenter
· 10:00 am -12:00 pm Artist's Breakfast "Chillin' in the Chickee" Party at the 3D Studio
· 1:00 pm – 3:00 pm Judging
· 4:30 pm – 5:00 pm Award Ceremony
· 5:00 pm to 9:00 pm – Collectors' Party, a ticketed event, Lighthouse ArtCenter (NO CHARGE for juried artists)
Saturday, April 2nd, 2022
· Gallery open for sales to the public*
*Open to the public
1. DESCRIPTION OF EVENT: This five-day Plein Air paint out and competition takes place in Palm Beach & Martin Counties, Florida. Juried artists will have the chance to compete for $15,000 in cash and prizes, along with opportunities for painting sales to collectors. The event starts with a Paint Out on Sunday, open to the juried artists as well as the public. Artists will then paint for five days and nights at locations in Jupiter, Juno Beach, Port Salerno and Palm Beach, featuring park settings, ocean views, vintage Floridian architecture and the famous Jupiter Lighthouse. The public and collectors are invited to view artists at work at the demo locations and attend the Collectors' Party & Sale at the Lighthouse ArtCenter Gallery. A juried artists' orientation and private dinner kicks off the festival on Sunday. Artist's demos, the ticketed Collectors' Party, and workshops will be included in the event. There will be an 8x8 Small Works sale and Still Life Painting Competition.
2. TERMS & CONDITIONS or GENERAL RELEASE of EVENT
JUROR DECISIONS: Applicants will be notified of the juror's selections through CaFE. In some cases, artists may be notified by phone or email.
PAINT OUT CONTEST. Artists who have applied for the festival are automatically entered into the Paint Out contest if they would like to participate. There is no additional fee and participation is not mandatory, however juried artists are still required to register for the Paint Out.
ENTRY PROCESS. Lighthouse ArtCenter is not responsible for entry materials lost in the mail, entry materials damaged in transportation, or malfunctions in entry materials due to human or technological error by the entrant, CallforEntry.org or Lighthouse ArtCenter staff. Entry materials of the artists selected for exhibition may be used by the ArtCenter for marketing, press, announcements, etc., and permission to reproduce artists' work for publicity purposes is deemed given with acceptance. LAC is not responsible for loss or damage to the accepted artwork during the course of the exhibition.
LIMITATION OF LIABILITY. Artwork will be handled with all possible care during the festival; however, neither The Lighthouse ArtCenter nor any member, volunteer, agent or visitor of LAC will be responsible for any loss or damage. Glass is used at the artist's risk. By entering this exhibition artists shall be deemed to agree with the conditions.
SALES OF ARTWORK. Artists will receive 60% on sales of their work sold during the exhibition, and a 40% commission to the Lighthouse ArtCenter. Art MUST remain on display through the duration of the Festival, unless sold during the event.
UNSOLD ARTWORK must be removed at the conclusion of the event on April 2nd, 2022. The ArtCenter does not have space to safely store artwork when the festival ends. Artwork will be released to a third party only with the prior written authorization of the artist or owner. Lighthouse ArtCenter will charge a storage fee of $5 per day on any works not picked up by 5 pm on April 2nd, 2022. After 30 days, the artwork will become property of the ArtCenter.

We hope that you will consider donating a painting to D'Art for Art, our major annual fundraiser, at the end of the Plein Air Festival.

NO REFUNDS. Refunds will not be made on any application entry.
Print this Page
View Legal Agreement