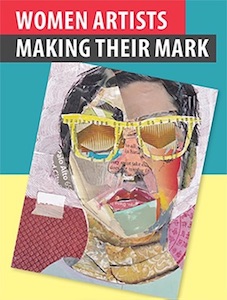 Women Artists Making Their Mark 2021
616 Throckmorton Ave.
Mill Valley, CA 94941
Contact Email:
office@ohanloncenter.org
Call Type:
Exhibitions
Eligibility:
International
State:
California
Entry Deadline:
7/23/21
Application Closed
REQUIREMENTS:
Media
Images - Minimum: 1, Maximum: 3
Total Media - Minimum: 1, Maximum: 3
Entry Fee (O'Hanlon Center for the Arts Entry Fee): $40.00

"WOMEN ARTISTS MAKING THEIR MARK" 2021
DEADLINE FOR SUBMISSIONS July 23, 2021
Show postcard mixed media art "Self Portrait #3" by Terry Tsu

Online Exhibition and Roundtable. Juried by Donna Seager and Suzanne Gray of the prestigious West Coast, Seager Gray Gallery
Continuing our annual show devoted to women artists, O'Hanlon Center for the Arts is committed to amplifying the creative vision of today's women artists across the globe helping to bring more gender equity to the world of art. This 13th year we continue to extend our reach around the globe by hosting the show in an ONLINE format; we invite a warm welcome to all artists who identify as female and encouraged them to submit to this popular show.
Women Artists Making Their Mark 2021 is dedicated to living working artists known and yet to be discovered: women artists making their mark and changing the landscape of contemporary art. Yayoi Kusama, Judy Chicago, Naibah Chacon, Wangechi Mutu and Chakaia Booker to name a few.
OHCA Herstory: Ann and Richard O'Hanlon founded Sight & Insight Art Center in 1969; today, their students and those attracted to their approach to creativity keep up the thriving operation. In 2004, Sight & Insight was changed to O'Hanlon Center for the Arts, to reflect the growing offerings in the Literary, Performing, and Healing Arts.
Mission: O'Hanlon Center for the Arts is a nonprofit educational organization 501(c)3 whose mission is to provide an environment and spaces where creativity and community can develop, expand and flourish.

About the Jurors:
Donna Seager & Suzanne Gray, owners and curators of one of the most prestigious galleries on the west coast, Seager Gray Gallery http://www.seagergray.com/
A native of New Orleans, Donna Seager began in the art business in 1978. She was the director of Marlborough Gallery in Boston before moving to California in 1989. She continued to work in galleries in the bay area until 2005 when she opened her own gallery. Seager has distinguished herself for her discerning eye and commitment to the arts in her community. She has given lectures on the art of the book at international fairs in Miami and San Francisco. In six years, the gallery became a destination for artists and collectors all over the bay area.
Suzanne Gray, a resident of Mill Valley grew up in upstate New York and studied journalism and art history at Syracuse University and San Jose State. Her lifelong interest and background in art and art history landed her a position at Donna Seager Gallery where she became an integral part of the business and ultimately a valued partner. Gray's skills extend themselves to professional art consultant services and she has overseen both commercial and residential art programs. Her knowledge of the art market, sophisticated eye, and understanding of art placement have gained her the trust and respect of her clients.

IMPORTANT DATES:
Friday, July 23, at 11 pm Pacific Time is the deadline for submission.
Friday, July 30, at 5 pm Pacific Time, chosen artwork will be announced by email.
Monday, Aug 9, Show will be exhibited on the O'Hanlon Center for the Arts" website.
Tuesday, Aug 10, we will host an online discussion, our traditional Roundtable, for artists to expand on and share with others.

INFORMATION NEEDED:
Artists Name

Email

Address

Phone Number

Website (if Applicable)

Title of Artwork

Medium

Dimensions H" x W" x D" (if sculpture)
You may upload up to 3 pieces of artwork for consideration into this juried show. Minimum file size 1 MB Maximum 5 MB.
IMAGES:
-Ideally named as: FirstName_LastName_Title
*Please be sure to title images correctly before uploading as CaFE won't let you change the name after upload and submission.**

ENTRY FEE: $40
(OHCA members pay $30 with coupon code OH30. To use the coupon code choose the $40 entry box. After choosing, you will be prompted to enter the code. Click apply and the price will be reduced)

Please contact the office: office@ohanloncenter.org to become a member or with any questions. Coupon code for free submission sent via email after becoming a first time member.
People may become NEW first-time members of the O'Hanlon Center for the Arts, for $95/year for free submission.

Any entry fees paid by check should be written out to "O'Hanlon Center for the Arts."
Gallery Policies and Guidelines
O'Hanlon Center for the Arts (OHCA)
By submitting artwork to be considered for any Exhibition, Artist understands and agrees to the following:
Participants / Submissions:
Open to all artists age 16 and over who identify as female.
Works previously shown at the O'Hanlon Gallery in-house or online are not eligible.
Exhibit Curation:
For most exhibits, not all artists will have artwork selected for showing. Final artwork selections are up to the Exhibit Juror(s) and/or Installer/Curator, both of which vary from show to show.
Artwork Sales:
Buyers will pay Artist directly for any art sales.
Artist agrees to contact OHCA of this sale and make a donation to OHCA of 30% of the sale price, on all sales of artwork within the first 60 days of the exhibition. This includes all artwork exhibited in an OHCA Gallery, in an online OHCA website gallery, and facilitated by OHCA. Donations to OHCA are tax-deductible to the extent permissible by law. Artwork does not need to be for sale - if "not for sale" please add zero in the price field.
Publicity:
By submitting work, artists agree that photographic images and/or video of the artist and/or their artwork, in whole or in part, may be used by OHCA in various forms including but not limited to print, online and social media. Artists agree to be added to O'Hanlon Center newsletter mailing list and can unsubscribe at any time.
O'Hanlon Center for the Arts provides an environment and spaces where creativity and community can develop, expand and flourish.
Print this Page
View Legal Agreement