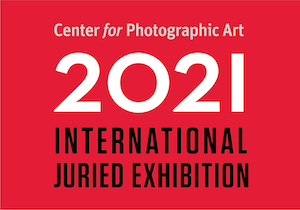 2021 International Juried Exhibition
Center for Photographic Art
Sunset Center
San Carlos Street at 9th Avenue
Carmel, CA. 93921
APPLY NOW
Contact Email:
ann@photography.org
Call Type:
Photography
Eligibility:
International
State:
California
Entry Deadline:
9/10/21
Days remaining to deadline: 42
REQUIREMENTS:
Media
Images - Minimum: 3, Maximum: 20
Total Media - Minimum: 3, Maximum: 20
Entry Fee (Entry Fee): $60.00

Media Fee (per sample over minimum):$10.00

2021 CPA International Juried Exhibition
Submission period: Thursday, July 1 through Friday, September 10, 2021, 11:59pm Mountain Time (10:59pm Pacific)
The Center for Photographic Art (CPA) is excited to announce the 2020 International Juried Exhibition with $5,000 in awards! Forty-five juror-selected photographs will be exhibited from November 20 through December 30 in our historic gallery in Carmel, California, and vie for eight cash awards totaling $5,000. These photographs will also be featured in an online gallery on the CPA website along with an additional forty-five juror selected images. An exhibition catalog of the entire gallery and online exhibition will be available for purchase. An entry discount is available for new and current CPA members.

2021 IJE Jurors
Debra Klomp Ching is the co-owner of the Klompching Gallery (est. 2007) in Brooklyn, New York. The gallery specializes in the exhibition and sale of contemporary fine art photographs. Artworks by its roster of artists can be found in the collections of MoCP, George Eastman Museum, LACMA, MoMA and Victoria & Albert Museum among many others. In addition to owning and operating the gallery, she is a freelance consultant, writer, curator and educator. Her writing has been published in several publications, including being a guest editor for Photography Quarterly (issue No. 99) and the commissioning editor/publisher of (re)collect - Jonathan Shaw (2006). She is a regular judge for photography awards,, including the LensCulture Emerging Talent Award (2017), San Francisco Bay International Photography Show (2018), and the Arnold Newman Portrait Award (2018). Debra Klomp Ching is an Adjunct Faculty member, at the School of Visual Arts in New York, and is the co-founder of the Fresh Annual Summer Exhibition, and Rhonda Wilson Award.
Darren Ching is the owner of Klompching Gallery, established in 2007 in the DUMBO neighborhood of Brooklyn New York. The gallery specializes in the selling and exhibition of contemporary fine art photography, and has placed artworks into numerous private, corporate and public collections. Mr. Ching's involvement in photography spans over 20 years, including jurying numerous domestic and international photo competitions; contributing to both online and print publications; lectures on the subject; formerly Creative Director of Photo District News (PDN); and co-curated The Architecture of Space for the Flash Forward Festival in Toronto. As an educator, he has been an Adjunct Faculty member at School of Visual Arts (SVA); visiting photography critic at The Rhode Island School of Design (RISD); lectured on contemporary magazine photography and design at Parsons School of Design in New York; and most recently the External Examiner for Final Senior Photography Projects at the Maryland Institute College of Art (MICA) . In addition to dealing artworks, he is a freelance designer, working on photography-based projects, a consultant to photographers, and a perennial co-curator of the Klompching Gallery's annual FRESH exhibition and Rhonda Wilson Award.
The owners of Klompching Gallery bring a deep understanding and broad appreciation of diverse photographic styles, genres and mediums to CPA's 2021 International Juried Exhibition.
The juror will grant the following awards:
First Place: $2500
Second Place: $1000
Third Place: $500
Four awards of merit: $250 each
2021 International Juried Exhibition Timeline:
Early submission rates open: 7/01/21
Early submission rates end: 8/7/21 11:59 PM MDT
Final day for submissions: 9/10/21 11:59 PM MDT
Artists notified via email: 10/02/21
Framed artwork due at CPA: 11/10/21
Opening reception, awards presentation, catalog release: 11/20/21
IJE exhibition closes: 12/30/21
Artwork Returns: January 2022
Eligibility
The 2021 International Juried Exhibition (IJE) is open to all living photographers, worldwide, over the age of 18, working in all still photographic media. There is no theme; any subject matter is eligible. Photographs accepted for previous CPA IJE gallery exhibitions are not eligible.
Entry Fees:
Early Submission Period: 7/01/21 - 8/07/21 11:59 PM MDT
$40 (with member discount) 3 images for CPA members
$60 3 images for non-members
Regular Entry Period: 8/08/20 - 9/10/21 11:59 PM MDT
$50 (with member discount) 3 images for CPA members
$70 3 images for non-members

All entrants are welcome to submit up to 17 additional images at a cost of $10 each for a total of 20 images.
To retrieve your CPA Members discount:
• For current CPA members, log into your account via the CPA website. Under the Members menu you will find the IJE Discount code: https://photography.org/ije-entry-members/

• You are welcome to join CPA. Log into the CPA membership page at https://photography.org/shop/joincpa/. Once you enroll, you can access the IJE Discount code and enjoy the benefits of CPA membership including our members only show in the spring!
You will apply the discount code at the end of the online CAFE entry system. It is difficult to see where the box is at check out. Look for an invisible box near the total.
How to Enter
All entrants must use the CallForEntry (CaFE) online entry system.
1. Access the CaFE site and create a free personal account. https://www.callforentry.org/
2. Upload your files into your CaFE portfolio with these specifications:
Image resolution: 1920 pixels (long dimension) @ 72 ppi,
Profile: AdobeRGB(1998). Save file as an 8bit Jpeg. Files must not exceed 5MB.
Please remove any visible names, titles, watermarks, etc.
Please note: Selected images and caption data will be printed in the exhibition catalog directly from your uploaded files. Your personal profile and image data will be our only source of information. Be certain that your name, titles, dates, sales prices, are complete and that you select the correct process type (digital pigment, platinum, silver gelatin, ambrotype, etc.). You MUST title each image; "Untitled" is not allowed.

You can upload your files to your CaFE portfolio at will. However, you must complete your ENTIRE entry before you check out and pay your fees. Once your IJE entry is submitted, it cannot be changed, nor can you add additional images. Therefore, please do not finalize your entry until you have entered the minimum number of images plus any additional images (up to twenty total) and have double-checked that all your information including your name, all titles, dates and processes, as well as your artist statement is accurate. You may enter your CPA members' discount code towards the end of the checkout.

Please plan accordingly. CaFE is an automated system so late entries cannot be accepted.

For assistance, please refer to the FAQ on the CaFE website, or email: ann@photography.org. No telephone calls please. We will do our best to respond quickly to your email. Keep in mind that we will be very busy near the end of the submission deadline.
3. Notification and Submission of Work for Gallery Exhibition
If selected for the gallery or online exhibition, you will be notified via a CaFE auto generated email by September 30, 2020. THESE NOTICES MAY APPEAR IN YOUR SPAM/JUNK FOLDER.
For accepted gallery artists only: framed photographs must be delivered to the CPA gallery no later than November 1, 2020. Artists selected for the online gallery need not submit work
Preparing Your Print for Exhibition
We require ready-to-install framed artwork, with the long dimension of the completed piece (including matting and framing) no larger than 30 inches. All framed images must be glazed with acrylic (plexiglass). Glass is not allowed. Unframed artwork will not be displayed. A sturdy and conventional wire hanging system is required. NO SAWTOOTH hangers or wooden cleats are allowed! Completed artwork must weigh less than 10 pounds.
Delivery and Return of Artwork
Framed pieces are due no later than November 1, 2020. Hand deliveries and pickups are welcome during regular gallery hours – at this point in the pandemic, that will be Saturday and Sunday, Noon to 4:00 pm. But please call ahead!
If you ship your work, please use sturdy and reusable packaging as it will be used for return shipping. Reusable fiberboard shipping cases are preferred. If you do not use a fiberboard case, please use sturdy cardboard, Masonite and bubble wrap to protect your work. Absolutely NO STYROFOAM PEANUTS or similar pelleted packaging material! Containers using this material will not be unpacked and the piece will not be exhibited.
Please use only Federal Express or UPS for shipping. USPS is not allowed. Our shipping address is:
Center for Photographic Art
Sunset Center
San Carlos Street at 9th Avenue
Carmel, CA 93921
(831) 625-5181
Because of the pandemic, we may give you an alternative shipping address. This address will be in your acceptance letter.
You MUST enclose a prepaid FedEx or UPS return shipping label with any applicable insurance. No cash, personal checks or stamps will be accepted. Costs for international customs and import duty is the responsibility of the artist.
Prints that do not meet our requirements, arrive damaged, use pelleted packaging, cannot be hung properly, or are deemed by the juror to be of poor quality will not be exhibited nor eligible for awards.
No exceptions to these rules. Failing to meet the stated criteria will disqualify your entry.
2020 International Juried Exhibition checklist:

√ Name, contact information, titles, process, dates and sales prices are complete and correct
before submission. "Untitled" is not allowed.
√ Entry completed and fees paid before September 15, 2020, 11:59 PM MDT
√ Maximum frame side of 30 inches, acrylic glazing only, no glass,
√ Reusable, sturdy packaging. No Styrofoam peanuts or other pelleted packing material
√ Prepaid return address label included
√ Framed work must arrive at CPA no later than November 1, 2020
Agreement:
• Ownership remains with the artist.
• A 50% commission will be retained by all work sold by CPA.
• CPA will provide attribution for selected artists included in the gallery exhibition, the online gallery, and the exhibition catalog.
• Strict timelines must be observed so that we can jury, install the exhibition, produce the catalog and upload the online gallery. Therefore, no changes will be allowed after submission and late deliveries will not be exhibited.
•Only one image per photographer may be selected for the gallery exhibition or the online gallery. Any work previously included in a previous CPA gallery or online exhibition will not be accepted.
• Artists with work accepted for the exhibition or for the online gallery grant CPA non-exclusive rights to use their images for IJE advertisement and related programs, for display on the CPA website, and for publication in the exhibition catalog. CPA staff and Trustees are not eligible.
• In the event of loss, damage or theft, CPA's liability is limited to replacement cost of materials only. A signed Exhibitor Agreement must accompany your work or be completed upon our receipt of the work.
• To ensure notices of future competitions and pertinent information of interest to the fine art photography community, all entrants will be added to the secure CPA email database. CPA does not sell or distribute email addresses and those desiring to opt out of such notices may easily do so.
Center for Photographic Art - Meaning Made Visible
Please join CPA! Members receive exclusive benefits and discounts on events, competitions, workshops and lectures. CPA depends on our membership and welcomes donor and corporate underwriting to help sponsor CPA's world class exhibitions, lectures and other vital programming.
For more information and to join, visit the CPA membership page at https://photography.org/shop/joincpa or click here
Center for Photographic Art is a 501(c)3 non-profit corporation.
Print this Page
View Legal Agreement