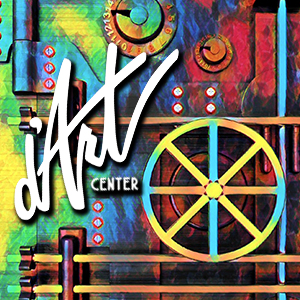 Solo Show in d'Art Center's Vault (during The Center's Nature Homage Exhibition)
d'Art Center
ATTN: Amanda Bradley
740 Boush St.
Norfolk, VA 23510
APPLY NOW
Contact Email:
abradley@d-artcenter.org
Call Type:
Exhibitions
Eligibility:
National
State:
Virginia
Entry Deadline:
8/1/21
Days remaining to deadline: 2
REQUIREMENTS:
Media
Images - Minimum: 3, Maximum: 20
Total Media - Minimum: 3, Maximum: 20
Entry Fee (D-Art Center): $55.00

Solo Show in The d'Art Center's Vault
Exhibit your work in a unique space in the heart of Norfolk's Art District!
Requirements for this solo show opportunity:
This specific solo show opportunity occurs during a National Juried Exhibition in our Main Gallery: Nature Homage.

Work submitted for The Vault can relate to the Main Gallery exhibition, however it is not required.
This opportunity is open to functional, non-functional, 2D, 3D, fine art, and fine craft in all mediums. The Vault can fit between 12 - 15 pieces depending on the sizes.

The Main Gallery open call to artists during this time frame is Nature Homage: A National Juried Exhibition of Artworks Featuring the Great Outdoors & Its Creatures. This is a juried national exhibition. Find out more information about this show and/or submit to this Nature Homage here: https://artist.callforentry.org/festivals_unique_info.php?ID=9176
See what d'Art Center and our solo artists have put together in The Vault previously here: https://www.d-artcenter.org/solo-shows-and-exhibitions-in-the-vault.html

Information:
Exhibition dates:
Saturday, August 28th 2021 - Sunday, September 19th 2021
Call Open:
Thursday, July 8th 2021 - Sunday, August 1st 2021
Notifications (by email):
By 5pm, Monday, August 2nd, 2021
Accepted works arrive by:
By 5pm, Friday, August 20th, 2021
Submission fee:
$55.00 for up to 20 works (one image per submission) Depending on the size, The Vault can exhibit up to 15 works
** This is a juried opportunity and will be juried by the d'Art Center gallery director and staff.
The Vault:
The Vault is located in the d'Art Center's new location in the NEON District. This one hundred and thirty two square foot exhibition space is a historical bank vault, and gives artists an opportunity to exhibit their work in a unique space in the heart of Norfolk Arts District (The NEON District). All styles and aesthetics are considered. D'Art Center will market the show through their social media and patron base, as well as provide invitational postcards/fliers. Commission on sales is 60% Artist, and 40% d'Art Center for juried shows in The Vault.
D'Art Center History:
As Norfolk's community art center, the d'Art Center proudly serves the greater Hampton Roads area by connecting the community with the visual arts. A non-profit 501c (3) organization, d'Art offers both youth and adult art education and classes, exhibits that give the public a broader exposure to many local and national artists, programming and outreach through art in public spaces, and events to showcase local artists, ceramicists, sculptors, fiber artists, and woodworkers.
Celebrating thirty five years in 2021, d'Art was founded in 1986 at the College Place location in downtown Norfolk. Modeled after the Torpedo Factory Art Center in Alexandria, Virginia, part of d'Art's mission from the onset was to provide working artists with affordable, short-term studio space. In 2005, the d'Art Center relocated to the historic Selden Arcade, continuing a legacy as a vibrant arts organization. The d'Art Center remained at the Selden Arcade for the next ten years. After an explosion caused major damage to the d'Art Center at the Selden Arcade, the d'Art Center organization recovered, regrouped, and revived itself in the New Energy of Norfolk (NEON) Arts District at its Duke Grace Building location. In 2021, d'Art Center moved into its forever home in the NEON District: The Atlantic Permanent Building.
The NEON District is anchored by the Chrysler Museum of Art, Harrison Opera House, and The d'Art Center, and extends to The Plot on Granby Street. The NEON District includes many creative small businesses and arts partners
Reception Packages:
Exhibiting artists have the option to have or to not have a reception. If they would like to have an opening reception for their show there are 3 options at different price points catered by d'Art with ABC licensing.
Package A ($250): Beer & Wine, Bartender, Bowls of Good Quality Snack Packages
Package B ($500): Beer & Wine, Bartender, 3 Appetizer Platters
Package C ($750): Beer & Wine, Bartender, Appetizers and Hors D'oeuvres
Submissions: All entries and payments must be submitted via Call for Entries (Cafe). Please follow the directions on Cafe. If you have exhibition questions, please contact abradley@d-artcenter.org; questions related to submitting through the Cafe platform should be directed to Cafe.
Other Information:
** Shows will be installed with the help of the gallery manager, or by the gallery manager entirely
Limitations if Work is Being Shipped: Works cannot exceed a weight of 40 pounds. Work can not be longer/larger than 60 inches in its longest dimension.
Other Limitations: All 3D works that require presentation other than standard pedestals must include those items with the works. Works that require special installation must come with clear instructions. Any works that require complicated specialized installation must be installed by the artist. ALL WORK MUST BE HANG/PRESENTATION READY. We reserve the right to reject work for the exhibition that differs significantly from the submitted images and/ or for craft issues.
Liability:
1. The gallery staff will take great care handling artworks for exhibition. However, the d'Art Center, its staff, and gallery are not responsible for any damage that may occur. We strongly recommend artists insure the works themselves, and also purchase insurance from the shipping company used. Shipping your work means you agree to this.
**Disclaimer: D'Art Center's insurance does not cover damage to art during shipping and transit to or from The Center. Artists should insure all work to and from The Center.
2. The d'Art Center lists exhibiting work for sale using the price of the work listed on the artist's CaFe account. It is the artist's responsibility to ensure that their sale price is correct in their CaFe account, or to otherwise notify the gallery manager. If the artist fails to list the price correctly or fails to otherwise notify the gallery manager, d'Art Center is not finically responsible if the work was sold at the CaFe account listed price. Please note that d'Art Center commission on sales is 60/40 (60% artist, 40% d'Art Center)
Shipping:
The artist is responsible for shipping costs to and from the gallery.
Please send work to:
d'Art Center
ATTN: Amanda Bradley
740 Boush St.
Norfolk, VA 23510
Hand delivered works are accepted through pre-arrangement; please contact
abradley@d-artcenter.org.
Artists must issue pre-paid return labels for their works through UPS or FedEx. We do not arrange shipping in any other manner. Works must have pre-paid return labels through FedEx or UPS to be returned which allows us to call for pick up as the Center's insurance does not cover transporting work offsite to local shipping companies or the United States Postal Service, which is why the postal service is not an option for shipping.
Works should be shipped in reusable containers for return. PLEASE MAKE YOUR RETURN LABEL EASY TO FIND UPON UNPACKING. Clearly indicate any packing directions for return of works. Works that do not include a return label, and/or works that are not picked up within one month of the end of the exhibition become property of the d'Art Center.
NO PACKING PEANUTS. Works packaged with packing peanuts will be returned immediately and not included in the exhibition.
The d'Art Center displays artist statements with the art work in its exhibitions. Please make sure that your artist statement is free of grammatical errors.
** Disclaimer : D'Art Center's insurance does not cover damage to art during shipping and transit to our from The Center. Artists should insure all work to and from d'Art Center.
Questions? Contact Amanda Bradley, Gallery Manager, at abradley@d-artcenter.org
Print this Page
View Legal Agreement