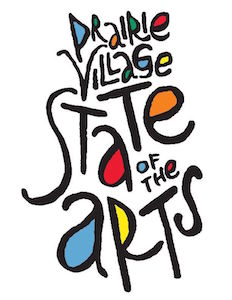 State of the Arts 2021--UPDATE
The Prairie Village Arts Council
7700 Mission Rd
Prairie Village, Kansas 66208
Contact Email:
alguarino@gmail.com
Call Type:
Competitions
Eligibility:
Regional
State:
Kansas
Entry Deadline:
9/17/21
Application Closed
REQUIREMENTS:
Media
Images - Minimum: 1, Maximum: 3
Total Media - Minimum: 1, Maximum: 3
Entry Fee (State of the Arts 2021): $35.00

State of The Arts 2021 is the R.G. Endres Gallery 15th annual juried competition held every October. The Exhibition runs during the months of October & November.
Submission deadline has been extended to Friday, September 17th.
We are sad to announce that our annual State of the Arts Gala Reception has been canceled due to the ongoing surge of COVID cases. However, we plan to hang the winning entries in the R.G. Endres Gallery in conjunction with a virtual exhibition of the entire show. This will allow the winning entries to be visited in smaller numbers during regular business hours, and also allow everyone to view the entire show from the safety of their own homes.
The show will open October 4th for People's Choice Voting. We look forward to resuming normal Gallery operations soon and look forward to a great show.

Awards:

$1,000 award for the R.G. Endres Best in Show (One Presented)
$750 Merit Awards (Two Presented)
$500 People's Choice award (One Presented)
$100 Honorable Mention Awards (Five Presented)

2021 Timeline:

Submissions Open: Friday, July 23nd, 2021
Submissions Deadline: Friday, September 17th, 2021
Initial selection by Juror: Friday, September 24th , 2021
Notification of Finalists: Monday, September 27th, 2021
Exhibition Posted online: Monday, October 4th, 2021
People's Choice Voting Opens: Monday, October 4th, 2021
People's Choice Voting Closes Thursday, October 14th, 2021
Announcement of awards: Friday, October 15th, 2021
Show removal: Saturday, December 4th, 2021

Our Juror:
Ada Koch
Ada (www.adakoch.com) is well-known in our Kansas City arts community as an artist, organizer, and teacher. She has served on several metro boards promoting local arts activities — including serving as President of the Kansas City Artist Coalition where she guided the organization through the relocation of their gallery during the COVID-19 shutdown, and serving a four-year stint on our own Prairie Village Arts Council. She has had her work displayed in many arts shows including the renown Florence Biennale art show in Florence, Italy; and her works hang in private collections in France, Germany, and Switzerland. Locally, her paintings may be found at the National World War I Museum, the Nelson-Atkins Museum, the Stowers Institute, and the Overland Park City Hall.

Ada has taught at art institutions and schools throughout the area for over 20 years. She currently teaches at the Nelson-Atkins Museum of Art in KC, the Eva Reynolds Fine Arts Gallery, Leawood, KS, and the Arizona Sonora Desert Museum in Tucson AZ.

Ada works daily at her studio, A Koch Studios, in the Livestock Exchange Building, West Bottoms arts district of Kansas City. Her joy is contagious. She told us "I am endlessly inspired by the world around me." We are honored to have her jury our show.
ENTRY DETAIL

Three entries allowed per artist. Entry fee is $35 for 1 to 3 entries. Fees are non-refundable. No more than one piece of art per artist will be selected by the juror for the show. The final round of adjudication will be announced after posting of the show.

The Sales Commission to the Gallery is 40%. All work MUST be for sale . Prices listed on the entry form are binding and cannot be changed after submission to the show is made. Sales will be made on line. the Prairie Village Arts Council will work with individual artists to arrange for delivery of the art to the buyers.

Receipt of work: UPDATE--Due to COVID restrictions, SOTA 2021 will be a virtual show. Only the winning entries will be displayed in the Gallery. Winners will be notified Friday Oct 15th and invited to bring their winning work to the R.G. Endres Gallery for display when able. We will work with our winners to make arrangements for delivery of your work. Shipped pieces will require a $10 processing fee for unpacking and repacking of the work. (Fee is waived if work sells) All shipped work must have a prepaid return label included in the packaging.

Artwork accepted for display is to be picked up on Saturday, December 4th, 2021 between the hours of 9AM and noon only unless a return shipping label and packaging is provided. Artwork not picked up on December 4th, 2021, will be charged a storage fee of $10 per day until the Artwork is picked up. Any Artwork unclaimed 30 days after the date of exhibition closing will become property of the City of Prairie Village.
ELIGIBILITY
Open to all Artists, 18 years of age or older.

2D & 3D Artwork of any media, except for photography, is acceptable. Artwork must be original, not more than 2 years old, not done in a class or under supervision of another artist, and not copied from published photos or from photos taken by others without their written permission. If copyright infringement is discovered the artwork will be disqualified (The Prairie Village Arts Council hosts an international photography show in May to allow our photography-artists a juried show).

All 2D Artwork selected for display must be D-ringed, wired and ready for hanging. No clip frames, saw tooth hangers, or string hangers permitted. 2D framed (or if unframed) size should not exceed 25 square feet total. All 3D work cannot exceed 48" (4 ft.) in any one dimension.
Print this Page
View Legal Agreement