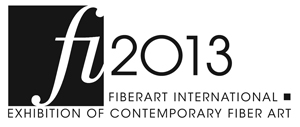 Fiberart International 2013
If you do not have a credit card, you may pay by check (drawn on a US bank only). Make your check for $35, payable to the Fiberarts Guild of Pittsburgh and mail to:
FI2013 c/o Jay van Wagenen
309 W. Hutchinson Ave.,
Pittsburgh, PA 15218.
Your check must be received before the deadline for your entry to be juried.
Contact Email:
fiberartinternational@gmail.com
Call Type:
Unspecified
Eligibility:
Unspecified
State:
Unspecified
Event Dates:
4/19/13 - 8/18/13
Entry Deadline:
9/18/13
Application Closed
REQUIREMENTS:
Media
Images - Minimum: 2, Maximum: 6
Total Media - Minimum: 2, Maximum: 6
Entry Fee (Fiberart International 2013): $35.00

Fiberart International 2013 seeks to exhibit the best of contemporary art and invites submissions that reflect a wide range of works related to the fiber medium. This juried exhibition is recognized around the world as a benchmark that documents trends and innovations in the field. The goal of the exhibition is to include innovative work rooted in traditional fiber materials, structure, processes and history, as well as art that explores unexpected relationships between fiber and other creative disciplines. Fiberart International is produced by FIBERARTS GUILD OF PITTSBURGH, INC., a non-profit, member supported organization that promotes the appreciation of fiber art and fosters its creative development and continuance. Since 1967, the Fiberarts Guild has sponsored juried exhibitions that bring innovative contemporary works of art in fiber from around the world to Pittsburgh, Pennsylvania. FIBERART INTERNATIONAL 2013 will feature works by established and emerging artists and will be open to the public from April 19 to August 18, 2013 at Society for Contemporary Craft and Pittsburgh Center for the Arts. The Fiberarts Guild is pleased to sponsor this twenty-first exhibition. Jurors: Kai Chan has exhibited across Canada, the United States, Japan, Australia, and Europe. "Kai Chan: A Spider's Logic – a Thirty-five Year Retrospective Exhibition" is currently touring in Canada. He has received numerous grants and awards including the Jean A. Chalmers National Crafts Award, and the Saidye Bronfman Award for Excellence in the Fine Crafts. His work is in the collection of Museum London, London, Ontario; Mendel Art Gallery, Saskatoon, SK; the Museum of Fine Arts, Houston; Musée des Arts Decoratifs de Montréal; the Canadian Museum of Civilization, Hull, Québec; Nordenfjeldske Kunstindustrimusem, Norway; and the Canada Council Art Bank, Ottawa. Chan is represented by David Kaye Gallery, Toronto; Galerie Elena Lee, Montréal; and Galerie Ra in Amsterdam. Paulina Ortiz is a textile artist and professor at the Veritas University, a leading design institution in Costa Rica. She has exhibited and lectured internationally and her work has been included in several publications, including Textile Forum and Embroidery magazine. Ortiz is founding President of the Iberoamerican Textile Network and has organized several major international exhibitions, including the IV International Biennial of Textile Art & Design of the World Textile Art Organization in 2006 and the I Encounter of the Iberoamerican Textile Network 2010, both in Costa Rica. She participated in the II Iberoamerican Design Biennial 2010 in Madrid, where one of her designs received an award. Ortiz was a key speaker at the European Textile Network Conference in Lithuania in 2011 and organized an exhibition of Costa Rican textile artists to be shown at the Kaunas Biennial Textile '11. Joyce J. Scott holds a BFA from Maryland Institute College of Art in Baltimore, Maryland, and an MFA from Instituto Allende, San Miguel Allende, in Guanajuato, Mexico. Scott is a descendant of African Americans, Native Americans, and Scots. Three generations of storytellers; quilters; basket makers; and wood, metal, and clay workers inspire her artwork. This wide range of influences plays a crucial role in her interpretation of contemporary issues such as racism and violence, sexism and stereotypes. Scott's work has appeared in more than 60 solo and group exhibitions and has been collected by many national and international museums, including the Metropolitan Museum of Art, New York; Baltimore Museum of Art, Baltimore; Brooklyn Museum of Art, Brooklyn, NY; Museum of Art and Design, NY; Mint Museum of Art, NC; Kruithuis Museum, Hertogenbosch, The Netherlands; Renwick Gallery, Smithsonian Institution, Washington, DC; Montreal Museum of Decorative Arts, and many more. AWARDS The Fiberarts Guild of Pittsburgh, Inc. will present over $5000 in cash awards, including: $1000 Best of Show Award $ 500 Second Place Award $ 250 Third Place Award • Joanne Purrington Folley Memorial Award for Exceptional Needlework • Marrianne Kor Award for Distinguished International Entry • Outstanding Use of Traditional Materials Award • Past Directors' Award for Innovative Use of Materials • Directors' Award • Louetta Heindl Kambic Memorial Award for Outstanding Weaving • Josephine Cohen Peoples' Choice Award CATALOG A full color catalog of the exhibition will be published. Each artwork will be represented on a full page. It is essential that the image provided is of a quality that will reproduce accurately and meet the high standards of a professional art publication.Exhibiting artists will receive a complimentary copy. Catalogs will also be available for purchase. CALENDAR Submission deadline August 31, 2012 Notification November 30, 2012 Accepted work due February 8, 2013 Opening reception April 19, 2013 Exhibition closes August 18, 2013 Work will be returned upon tour completion. REQUIREMENTS • Entries must be original work completed after December 31, 2010 • Artists must be 18 years of age or older. • Collaborative works will be considered as a single entry. Artists submitting both collaborative and individual works must apply separately. • Work must not exceed 8'6" (2.60m) in any single dimension. • Installation pieces must state "total installation size" on entry form. • Work must be original in concept and design and not be the result of a class or workshop. Student work is accepted if it meets the previous statement. • All work must be either fiber in content or executed in a fiber technique. • All work MUST be available for touring for up to two (2) years beginning August 19, 2013. ENTRY FEE • $35 non-refundable for up to three (3) entries must accompany the application. SELECTION • Work will be judged from digital images. • Selection will be based on the overall quality of the work and its relevancy to the standards stated in "REQUIREMENTS." • Accepted work will be subject to final approval by the jurors' representative. Work which differs significantly from the image representing it will be rejected and returned to the artist. • Jurors will recommend all or a portion of the accepted work for touring for up to two (2) years. Work on tour will be insured. APPLICATION • Artists may submit up to three (3) works. • Each entry must be represented by two images: One (1) full view and one (1) detail. Upload and label your images in this order: full-size image, corresponding detail. Make sure the title for each detail matches the corresponding artwork and ends in the word DET. You will have 56 characters for your title. • For each work submitted, artist must provide a brief description including dimensions, materials, and techniques. • Work framed under glass must be photographed without glass, but noted that it will be displayed with glass. PHOTOGRAPHING YOUR WORK • Use a professional photographer if possible. • Each entry should be represented by clearly focused, well-lit images on a neutral background that accurately reflects the work submitted. Color must represent the piece accurately. • Proper lighting is essential. DO NOT USE A CAMERA FLASH. It will cause a "hot spot" on the work. • Work exhibited framed under glass must be photographed before it is framed. • Work exhibited in a frame must include the frame in the digital image. • IMAGE SPECIFICATIONS Dimensions: 1920 pixels on the longest side File Format: Save all images as BASELINE Standard JPEG. Do not save as a Progressive JPEG. File Size: JPEGs must be under 3 MB. Color space: Save images in an RGB color space, preferably sRGB. NOTIFICATION • Notification of the jurors' decision will be sent by e-mail or US mail. CONDITIONS Submission to Fi2013 implies the acceptance of the following conditions: • Accepted work must be completely ready for installation including any essential display hardware, rods or stands. • Accepted artwork must be available for the entire duration of the exhibition, including touring for up to two (2) years beginning August 19, 2013. • If accepted work is sold prior to the exhibition, the artist must notify Fi2013 and make arrangements with the new owner to have the work available for the duration of the exhibition. • Work other than that submitted and chosen by the jury may not be substituted. • Fi2013 and the Fiberarts Guild of Pittsburgh retain the right to reproduce and distribute the images to print and electronic media for publicity, documentation, and educational purposes. • Work will be insured while on exhibit by Pittsburgh Center for the Arts or Society for Contemporary Craft at 50% of the retail sale price. • Touring work will be insured by the touring venues at 50% of the retail sale price. • A 50% commission on retail sale will be retained. SHIPPING • The artist is responsible for all shipping and insurance costs en route to the exhibition. Complete shipping instructions and customs regulations will be included with notification of acceptance. RECEIVING 1. Work must arrive at the designated location, included with notification of acceptance, by FEBRUARY 8, 2013. 2. Work MUST be shipped in STURDY REUSABLE containers and include repacking instructions. 3. C.O.D packages will NOT be accepted. RETURN 1. Fi2013 will pay return shipping. 2.Work will be returned following tour completion according to artist instructions. QUESTIONS? Visit www.FiberartInternational.org for more detailed information.
Print this Page
View Legal Agreement