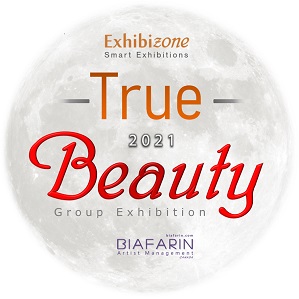 True Beauty Exhibition - 2021
Contact Email:
exhibitions@exhibizone.com
Call Type:
Exhibitions
Eligibility:
International
State:
Unspecified
Event Dates:
12/23/21 - 1/23/22
Entry Deadline:
12/1/21
Application Closed
REQUIREMENTS:
Media
Images - Minimum: 1, Maximum: 5
Total Media - Minimum: 1, Maximum: 5
ABOUT
Exhibizone invites brilliant artists globally to express their artistic definitions of True Beauty in the universe from animals and plants to landscapes, human figures and objects.
They say "Beauty is in the eye of the beholder", that which one person finds beautiful or admirable may not appeal to another.
Is True Beauty skin deep or it goes deep to the bones?
We believe that True Beauty is not limited to a beautiful human face or body. A dance of colors, an admirable landscape, some cute pets, nature or wildlife in its utmost pureness, and all mysteries and phenomena of the universe, may be seen as True Beauty in the eye of the beholder artist.
In addition to shapes, lightings, layouts, balance and order, we believe that the original beauty, truth and goodness can be discovered in moments, meanings, stories, memories, feelings, and even illusions, in various ancient and modern human cultures.
Now, what is your own visual idea of true beauty and its elements?
We encourage you to express your unique visual sense of beauty, as we are looking for all abstract and representational artistic interpretations of True Beauty for another top-rated art exhibition by Exhibizone that has attracted more than 1,500,000 visitors worldwide.
The submission to this artist call is Open and Free to all artists and mediums worldwide.
A Selection Fee will be applied to selected artists only.
For more information please visit https://www.exhibizone.com/truebeauty
AWARDS
■ Group Exhibition
Around 100 artworks will be selected for an international smart online group exhibition.
All selected artworks will be exhibited online from December 23, 2021 to January 23, 2022.
■ Public choice Cash Prize
3 artists with the highest rank in the whole duration of the exhibition will win US$ 300 cash prizes.
■ Exhibition Catalogue
All selected artworks and artists for the exhibition will be published in a stylish colorful exhibition catalogue available online.
Artists can order for the print catalogue via print-on-demand service from a partner platform.
The catalogue will be promoted and circulated internationally, available to thousands of viewers, including art experts, galleries, curators, businesses, and enthusiasts, via popular publication gateways.
■ Exhibition Poster
A unique link to the digital poster of the exhibition will be sent to each artist via email.
■ Artwork Badges
A sharable digital badge for each artwork will be sent to each artist to share on social media.
■ Visitor Comments and Ratings
All exhibition visitors can submit their comments and ratings of the exhibition and each artwork online via the exhibition site.
Each artwork review will be available on the artwork page on the exhibition site and sent to the artist by email.
Visitors' comments and ratings are vital for each artist to learn more about visitors' reactions and feelings about their artworks.
■ Exhibition Promotion
A promotion program, including the exhibition press release sent out, catalogue circulation, and social media presentation, will be executed to boost the selected artists' exposure and increase the artwork sales during the exhibition period.
■ Reports, Analytics and Insights
A report containing the number of views, reviews, artworks popularity, the engagement rate of exhibition viewers and magazine readers with artworks, and sales statistics, will be sent to artists regularly.
■ Publication
Participant artworks will have a chance to be selected for an art magazine from Discover the Artist media group in the future.
■ Artist Profile Page
Each artist receives a free online profile page on Biafarin platform.
■ Certificate
A digital certificate will be issued for all participants and selected artists.
Each artist can print the digital certificate from Biafarin platform after the submission is complete.
■ Biafarin Free Shipment
Selected Biafarin members with Gold and Platinum package will use a free shipment of their artwork(s) in case of sales.

FEES
Submission is Free.
Selection Fee: USD 50
The selection fee should be paid by artists selected for the exhibition.
Each artist can submit up to 5 artworks.
Maximum 2 artworks will be selected.
All payments are non-refundable.
ARTIST REQUIREMENTS
Artist Photo - headshot
Artist Full Name
Artist Birth Date
Complete Postal Address
Email
Social Media Links (Optional)
Website (Optional)
Artist short Biography
ARTWORK REQUIREMENTS
Title
Category
Creation Year
Technique
Surface
Size (WidthXHeightXDepth) in cm or inches
Artwork Description
Price in USD
ARTIST ELIGIBILITY
This opportunity is open to all artists worldwide.
ARTWORK ELIGIBILITY
Art Categories
The submission is open to all visual artists creating original artworks in 2 and 3-dimensional media.
Painting, drawing, illustration, printmaking, photography, digital art, fiber art, sculpture and mixed media are accepted.
Style
All styles are accepted.
Any abstract or representational interpretations of the subject are welcome.
Size
There is no size limit for submitted artworks.
Duration
There is no limit for artwork creation year.
Artworks created within the last 5 years are preferred.
Originality and Rights
Artworks must be entirely the work of the entrant, executed without the supervision of an instructor.
Entries must not be copies or derivatives based in any way on other copyrighted or published paintings, photographs or other artistic work. Any infraction of this rule will result in serious consequences.
Artist should have all the rights for presenting and publishing the artworks internationally.
Artwork Photo
Only the artwork should show in the photo (no frames or extraneous backgrounds).
Invited artists might be asked for high resolution artwork photos, if needed.
Availability
Artists can submit artworks that are not for sales.
Number of Artworks
Artists can submit up to 5 pieces of original artworks in relation to the subject.
The artworks are subject to selection and maximum 2 artworks might be selected from the chosen artists.
Other
Artworks that, in reasonable view of the organizer, include porn, violence, and/or racial, and religious hatred, inappropriate and/or offensive content, are not admissible.
Print this Page
View Legal Agreement