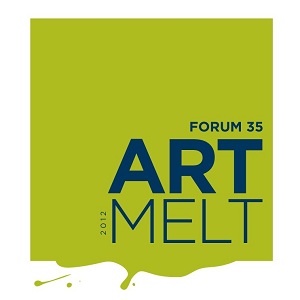 Art Melt 2012
Contact Email:
artmelt@forum35.org
Call Type:
Unspecified
Eligibility:
Unspecified
State:
Unspecified
Event Dates:
7/13/12 - 8/3/12
Entry Deadline:
6/5/12
Application Closed
REQUIREMENTS:
Media
Images - Minimum: 1, Maximum: 3
Total Media - Minimum: 1, Maximum: 3
Entry Fee (Art Melt 2012): $35.00

This call is for LOUISIANA RESIDENTS ONLY!

The 9th annual Forum 35 Art Melt will take place from 5-10pm on Saturday, July 14 at the Shaw Center for the Arts in downtown Baton Rouge. The works selected for the show will hang in the Shaw Center Gallery and be open to the public for 3 weeks.

This event is an occasion for all the senses - sights, sounds, smell, taste, and touch - guests will be invited to view the professional exhibit and also enjoy the best local music, performance art, artisan vendors, and culinary creations Louisiana has to offer.

ELIGIBILITY:

Open to artists ages 18 or older residing in Louisiana. Art must be original and produced within the past two years. No reproductions accepted.

AWARDS:

First Place $2000

Second Place $1000

Third Place $500

Forum 35 Award: The selected piece is featured on next year's Art Melt Commemorative Poster.

Country Roads Magazine Award: Artist and his or her work are featured in an issue of Country Roads Magazine.

Camelot Club Award: Selected artist is invited to hang a show in a designated space within Camelot Club for 3-4 weeks.

Ann Connelly Award: Selected artist is invited to hang a show in the Ann Connelly Gallery.

FEE:

$35 non-refundable entry and image fee*

*Fee must be paid when you submit your work on-line. The $35 fee includes up to 3 submissions and images for one artist. Images of art along with payment must be submitted online.

ENTRIES:

Limit one entry which includes up to 3 submissions per artist. Each submission must be represented by at least 1 image.

SIZE AND WEIGHT RESTRICTIONS:

Sculpture dimensions must not exceed 84 inches by 50 inches and must not weigh more than 100 pounds. Two-dimensional work must not exceed 72 inches in any direction. White mattes only, no exceptions.

SALES:

Forum 35 will take a 33% commission on all works sold. Artists must include this commission when determining their market value/selling price. Proceeds from the commission go to the arts and cultural efforts of Forum 35 and help keep the Art Melt free to the public and low cost for artist applicants.

PREPARATION OF WORK:

All accepted entries must be ready for gallery installation.

Two-dimensional works must be framed or gallery wrapped and all work must be finished to museum quality. All frames must have screw eyes or track mount clips for installation purposes and have a hanging wire attached to the back.

Three-dimensional work must be ready for gallery installation. Pieces that require assembly will be accepted only if the artist is responsible for assembling the pieces personally or if the artist hires a qualified individual to assemble the pieces. Pieces not ready for gallery installation and pieces that are not representative of submitted images are subject to rejection.

SELECTION OF WORKS:

The pieces submitted will be presented blindly and independently to a jury consisting of non-committee members or members of Forum 35. This pool may consist of both national and regional art professionals such as museum curators or recognized members of the art community who do not directly represent artists eligible to participate in the show. Each submission will be ranked on a scale of 1-7 by each juror and then cumulatively ranked based upon overall ranking by all jurors. The number of pieces to hang in show will then be determined by availability of space.

RIGHTS:

Forum 35 reserves the right to reproduce the selected works for publicity purposes.

No changes in title, insurance value, or selling price will be accepted after the selection process.

No works may be withdrawn, returned, or substituted.

Any works sold during the exhibit will be given to the purchaser at the completion of the exhibit.

LIABILITY:

Works chosen for the exhibit will have "On Premises" insurance only.
Each participating artist must have submitted a declared market value (selling price) on the entry form in order to obtain "On Premises" insurance. No insurance coverage is provided for any work in transit or without a written marketable insurance value.

DELIVERY OF WORK:

Accepted works must be hand delivered to the lobby of the Shaw Center for the Arts located at 100 Lafayette St. in downtown Baton Rouge between the hours of 12:00 p.m. (noon) and 6:00 p.m. on July 5, 2012.

RETURN OF WORK:

Accepted works must be picked up by the artist or a designated representative of the artist on August 5 between 12:00 p.m. (noon) and 6:00 p.m. A storage fee of $10.00 per day will be charged for entries after August 5. The charge is to be paid by the artist prior to return of the work.

Have questions or need additional information? Please email us at artmelt@forum35.org.

Print this Page
View Legal Agreement