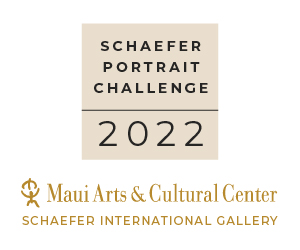 Schaefer Portrait Challenge 2022
APPLY NOW
Contact Email:
jonathan@mauiarts.org
Call Type:
Exhibitions
Eligibility:
Regional
State:
Hawaii
Event Dates:
1/11/22 - 3/20/22
Entry Deadline:
10/9/21
Days remaining to deadline: 21
Number of Applications Allowed:
2
REQUIREMENTS:
Media
Images - Minimum: 2, Maximum: 3
Total Media - Minimum: 2, Maximum: 3
Entry Fee (Entry Fee): $30.00

A signature exhibition of Maui Arts & Cultural Center, Schaefer Portrait Challenge is a triennial juried competition held since 2003, inviting Hawai'i's artists to take portraiture to new heights by exploring expressive and emotional depth in capturing the essence of their subjects. Their interpretations will offer a range of approaches, thoughts, and techniques that tell the personal stories of our island communities.
The jurors will be: Carl Jennings from O'ahu, Codie King from Hawai'i Island, and Jan Sato from Maui.
The Challenge has two substantial cash prizes: The Jurors' Choice Award for $15,000, sponsored by Carolyn Schaefer, and The Gene & Ruth Freedman People's Choice Award for $5,000.
DATES
Application submission period: September 4 – October 9, 2021
Application deadline: October 9, 2021 (7:59 pm HST)
Notification of jurying results: October 20, 2021
Exhibition dates: January 11 – March 20, 2022
MEDIA
A broad range of interpretation and style from representational to experimental work is encouraged. Self-portraits are also accepted. All work entered must be original, one-of-a-kind, and newly created specifically for this exhibition between October 2018 and October 2021. The work may not have been previously shown in any other exhibit, gallery, venue, website, or on social media.
Accepted Media: Drawing, painting, textiles, sculpture, printmaking, and mixed media. Accepted printmaking processes include relief, intaglio, lithograph, serigraph, monoprint, and chine-collé pulled from small editions only. Photography and computer-generated imagery are allowed only when used as a component in a mixed media work (two or more combined mediums) based on the acceptable media listed above.
Multiples that orient as one piece will be considered. At least one dimension of height or width may not exceed the maximum of 84 inches (7 feet). The remaining dimension may go up to 144 inches (12 feet), and must fit through the gallery doors (7 feet x 7 feet).
All two-dimensional works will need to be properly framed if selected for exhibit. Works that are glazed should use acrylic (plexiglas) and not glass. Paintings on panel or stretched canvas will need to be framed, unless the painted design wraps around the edge or the overall composition includes multiple surfaces. All work must have a hanging device of screw eyes and wire or D-rings.
Sculpture media includes paper, stone, wood, metal, fiber, clay, resin, etc., can be wall-hung or free-standing, and should not exceed 7 feet (height) x 7 feet x 4 feet in size, nor should it weigh more than 150 pounds. MACC will provide platforms for selected works.
Non-accepted Media: Photography, photographic reproductions, video, computer-based digital art, and inkjet prints (giclèe).
APPLICATION
Artists may submit up to two entries. Please submit a separate application form for each entry. There is a non-refundable fee of $30.00 for each artwork entered.
Images should be high resolution and well lit. Submit 2-3 images for each entry. Image files should follow CaFÉ guidelines: JPEG or JPG format, under 5MB with a minimum of 1200 pixels on the longest side.
Two-dimensional work: submit 1 image of the full work, and 1-2 detail images.
Three-dimensional work: submit 1 image of the full work, and 1-2 images from alternate angles.
Include an artist's statement (up to 150 words) describing your subject, inspiration, and special aspects about the work. Also include a short bio (up to 150 words) describing key points of your arts background, exhibitions, education, awards, etc. Excessive amounts of info will be edited out.
NOTIFICATION
Artists will be notified of final jurying results by October 20, 2021. If your work is selected for the exhibition, we will send you further information on how to proceed.
SALES
Artists are encouraged to offer their work for sale at fair market prices. Sales occurring during the exhibition will be handled by MACC. Artists receive 70%, with a 30% commission to MACC.
SHIPPING
If your work is selected for the exhibition, you will receive further instructions for shipping or delivering work to Maui Arts & Cultural Center. Artists are responsible for incoming packing and shipping. MACC will be responsible for return shipping at the end of the exhibition.
LIABILITY
Maui Arts & Cultural Center will not be held responsible for loss or damage during shipping. Artists are responsible for insuring their work for shipping to and from the exhibit. MACC will cover liability insurance on works during the exhibition.
IMAGE USE
As a condition of exhibiting in SPC, artists will agree to allow their work to be photographed for publication.
ELIGIBILITY
Open to artists 18 years of age or older who are year-round residents of the state of Hawai'i. Work created under direct teaching supervision is not eligible. The portrait subject must be a person living in Hawai'i. Artists must have a direct relationship with the subject to include live sittings, and be able to provide verification of the sitter's signature.
Print this Page
View Legal Agreement