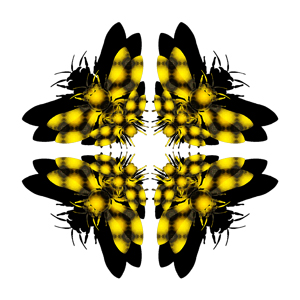 Flanders Nature Center/Blue Horse Arts: Plight of the Pollinators
Flanders Nature Center & Land Trust
5 Church Hill Road
Woodbury, CT 06798
Attention: Arthur Milnor/Plight of the Pollinators
Contact Email:
info@bluehorsearts.com
Call Type:
Unspecified
Eligibility:
Unspecified
State:
Unspecified
Event Dates:
6/2/13 - 6/22/13
Entry Deadline:
5/4/13
Application Closed
REQUIREMENTS:
Media
Images - Minimum: 0, Maximum: 3
Audio - Minimum: 0, Maximum: 3
Video - Minimum: 0, Maximum: 3
Total Media - Minimum: 1, Maximum: 3
Entry Fee (Flanders Nature Center/Blue Horse Arts: Plight of the Pollinators): $25.00

Art of the Earth Art and Environment Series First Challenge "Plight of the Pollinators" PROSPECTUS Plight of the Pollinators: A Call to Artists Flanders Nature Center and Land Trust, in conjunction with Blue Horse Arts Studio, located in Watertown, Connecticut, seeks artwork for an upcoming exhibition in June, 2012. Artists will be challenged to create works of art inspired by nature and/or critical environmental issues. This "Art of the Earth" series of events will encompass seasonal group exhibitions starting this spring with an initial call for art and multimedia creations for a "Plight of the Pollinators" exhibition. This exhibition will be open to the local and online community in an effort to raise awareness of the vital importance of the role of pollinators in maintaining the health of our food and eco-systems. Partial proceeds from the sale of work from the exhibition and entry fees will be donated to Flanders Nature Center and Land Trust's environmental educational programming. "One third of the food we eat is directly the result of the habits of pollinators within our ecosystems. These creatures, winged and scaled, are on the decline due to habitat loss, chemical use, invasive species, and disease. We ask that artists working in variety of media submit work that creatively interprets this issue or visually celebrates pollinators". This call for entry is open to all artists working in a variety of media, professionals and students who wish to contribute their vision or voice to raising awareness on the "Plight of the Pollinator". A panel of jurors from both the disciplines of art and science will select works for the "Field Projects" exhibition space. All artists, who contribute to this event through participation, will have the opportunity to be exhibited online through "Flickr". This online exhibition will be accessible through the Flanders Nature Center and Land Trust website for a six month viewing period. Awards for adult artists and professionals will be announced. A Natalie Van Vleck Student Award will be offered in honor of Natalie Van Vleck, artist and founder of Flanders Nature Center, for an outstanding piece that reflects the spirit of this spring's "Plight of the Pollinator" challenge. Entry fees and partial proceeds from the sale of work at the exhibition will benefit the Flanders Nature Center & Land Trust's environmental education programs. Our Jury Panel and Process The jury panel for "Plight of the Pollinators" was assembled to represent a diverse combination of arts professionals and representation from the science community who are supportive to the theme of promoting awareness of this critical environmental issue. The process is two-fold ensuring a variety of inputs into the selection of artworks in order to enhance the quality and transparency of the jury process .All artworks submitted will be available for viewing on an online platform, in this case Flickr . Artists will have the option to opt in or out of this opportunity when they apply to the call. This ensures that all artists who support this theme are represented and their participation is acknowledged. Selections from those submissions are first filtered through the curators of the show. Works from that first selection process are then passed on to the blind jury panel for an objective selection of work that reflects a high level of artistic quality. Jury Panel Donald Taglialatella Donald Taglialatella is an expert in post-war and contemporary art and entered the international art world in June of 1990. Since 1998 he has owned and operated World House Editions and World House Gallery, which is based privately in Middlebury, Connecticut since 2006. He is a member of the International Fine Print Dealers Association (IFPDA) as well as the Confédération Internationale de Négociants en Oeuvres d'Art (CINOA) and has written on artists and movements such as Antony Gormley, Arman, Reinhoud and The Cobra group, his historical expertise. Presently he is compiling and editing the catalogue raisonné of the prints of Robert Cottingham, which will be published by Lund Humphries, London in late 2013. Under World House Editions, he has published prints, multiples and photographic projects that are in the permanent collections of such institutions as The Museum of Modern Art, New York; The Whitney Museum of American Art, New York; The Louisiana Museum for Moderne Kunst, Humlebaek, Denmark; The Cincinnati Art Museum, Cincinnati; The British Museum, London; The Albright-Knox Art Gallery, Buffalo; The Museum of Fine Arts, Houston; The William Benton Museum of Art, The University of Connecticut, Storrs, Connecticut; The Detroit Institute of Arts, Detroit, and The Cabinet des Estampes, Geneva, Switzerland. Donald has a B.A. in Art History from the University of Delaware and was a curatorial apprentice during his four years at the University of Delaware's Museum of Art. www.worldhouseeditions.com Marjorie Frankel Nathanson Marjorie Frankel Nathanson has been the Executive Director of the Hunterdon Art Museum in Clinton, New Jersey since 1996. She holds an M. A. in Art History from Columbia University and a B.A. in Art History from Simmons College. Prior to her current position, she was on the curatorial staffs of The Museum of Modern Art in New York, the Montclair Art Museum, Montclair, New Jersey, the University Museum and Art Galleries of Southern Illinois University and the Ben Shahn Galleries at William Paterson College. She has also held positions at Sotheby's, Ronald Feldman Fine Arts, New York and the Museum of Fine Arts, Boston and was the owner and director of Frankel Nathanson Gallery. As a member of the staff of The Museum of Modern Art, Marjorie worked on major exhibitions including Andy Warhol: A Retrospective, Henri Rousseau, Louise Bourgeois, Frank Stella, and Berlinart and was the curator of the Projects Exhibition Joel Otterson. She is a member of ArtTable and is on the Boards of ArtPride New Jersey and the Clinton Guild. www.hunterdonartmuseum.org Douglas Hyland Douglas Hyland has been Director of the New Britain Museum of American Art in New Britain, Connecticut since 1999. Under his tenure, the New Britain Museum has seen the renovation of the Landers House and the construction of the Chase Family Building, while at the same time the museum increased its operating endowment by one hundred percent. Prior to the New Britain Museum of American Art, Douglas was director of the San Antonio Museum of Art, San Antonio, Texas (1992-98) the Birmingham Museum of Art, Birmingham, Alabama (1984-91) and the Memphis Brooks Museum of Art, Memphis, Tennessee (1982-1984). He is an expert in American and European painting and sculpture, particularly from the period 1800-1950 and has himself organized major exhibitions on artists from Antonio Guadi, Charles Burchfield, Reginald Marsh, to Antoni Tapies and Adolph Gottlieb, as well as important shows such as, Age of Innocence: American Impressionism and Its Influence, Five Hundred Years of French Art, and The Body Revealed, 200 Years of the American Nude. He is the author of over a dozen scholarly articles and books, has lectured at the American Association of Museums Annual Conference, the College Art Association Conference, the SEMC Conference and is an Institute of Museum Services Assessment Panelist as well as an American Association of Museums Accreditation Visiting Committee member. Douglas has a B.A. in Art History from the University of Pennsylvania and an M.A. as well as a Ph.D. in Art History from the University of Delaware. www.nbmaa.org Marjorie Portnow Marjorie Portnow is an American painter rooted in the tradition of the observed landscape. She is an elected member of the National Academy of Design. Her work appears in many of the major museum exhibitions of American landscape painting including: The Landscape in Twentieth-Century American Art (Selections From The Metropolitan Museum of Art); Landscape Painting (1960-1990) (The Italian Tradition in American Art). She is featured in important books and catalogues of contemporary American landscape painting such as John Arthur's The American Landscape Tradition Since 1950 and Spirit of Place: Contemporary Landscape Painting and the American Tradition and Alan Gussow's publication, The Artist as Native (Reinventing Regionalism). Marjorie is the recipient of numerous awards and fellowships including; Yaddo and the Mac Dowell Colony, The Hassan Purchase Prize from the American Institute Academy of Arts and Letters, two National Endowment of the Arts grants, two Ingram Merrill Grants, two Tiffany Foundation Grants and two Bunting (Radcliff Institute) Institute Grants. Her work is held in the permanent collections of The Metropolitan Museum of Art, NYC; Boston Museum of Fine Arts, Boston, The Sheldon Art Museum, the Gibbs Museum of Art, The National Academy of Design, Middlebury College Museum, Albany Museum of Art, and Middlebury College Museum, The Graham Gund Collection, The Jacob Kaplan Collection Citibank Corporation of North America, and The AT&T Collection. She has taught at many prestigious institutions throughout the U.S., including the Pennsylvania Academy of Art, New York Studio School, Brooklyn College, The National Academy of Design, The Skowhegan School, the University of Pennsylvania, The University of California, Virginia Tech, and Hollins University. She is currently a full-time professor at Western Connecticut State University. Susan Cusato Dr. Susan Cusato is the Chairperson of the Science Education and Environmental Studies at Southern Connecticut State University. Her academic background includes degrees in plant science, biochemistry, and environmental studies. She is currently teaching a course entitled "Pollinators: a Case Study in Sustainability". She and her husband live in Woodbury and are beginner beekeepers learning first - hand the challenge of keeping bees while struggling against environmental and disease related threats that regularly take their toll on the hives. Jay Foster Jay Foster is a working musician, composer, audio production consultant, and owner of J. Foster Music Studios in Connecticut, where he teaches music, theory, performance, and technology. His past teaching credits include the National Guitar Institute, Nanyang Technological University's Guitar Ensemble in Singapore, and other private studios. While in Singapore he was a consultant for sound technology training (Pro-tools) for the animation/film department at the school of Art, Design, and Media where he also composed music for film, animation, and games. In 2010 Jay Foster was nominated for Best Sound for the Singapore Short Films Award. He studied classical Indian Music under international performing and recording artist Ustad Sharafat Khan, and recorded and post-produced a live performance of this classical sitarist. Jay Foster is a frequent contributor to the Propellerhead's forum and a beta tester for a number of their audio production softwares. SUBMISSION DEADLINE: May 4th, 2012 Exhibition opening will be held on Saturday June, 2nd, 2012. The exhibition will run from June2, 2012 - June 22, 2012 ALL SUBMISSIONS ARE ONLINE Finalists will be notified by email on MAY, 15th, 2012 ELIGIBILTY This event is open to all artists both professionals and students, whose work reflects the topic of pollination. The artwork selected by the jury for exhibition at "Field Projects" exhibition space must meet the space criterion of the gallery. Works that are site specific or oversized will be included in the online exhibition. 1. Artwork entered must be original and have been created in the last 2 years. Canvas size: maximum size not to exceed 60" x 60" (unframed). Sculpture or craft based work must not exceed 26 inches wide x 5 vertical feet or 100 pounds 2. Finalist Artwork selected by the jury panel and exhibited at the "Fields Projects" exhibition space must be framed and wired for hanging.(Gallery wrap and strip framing is acceptable). Shipping, (delivery and return), and insurance is the responsibility of the artist. 3. Artwork that is shipped must be packed in re-useable crating. Suggested companies Masterpak. 4. The artist retains copyright to his/her image but must agree to allow Flanders Nature Center and Blue Horse Arts to utilize the images to promote the event. 5. 30% of sales price will be retained for the Benefit of Flanders Nature Center and Land Trust's environmental education program. ENTRY INFO On-line Submissions—Deadline: Friday, May 4th,2012 Electronic applications will be accepted beginning February 24, 2012. Image and multi-media entry requirements will be forthcoming Jury Fees The jury fee for electronic entries is as follows; 25.00 for up to 3 works. Electronic payment by credit card and entry upload will be submitted through CaFé. More Information on application is forth-coming. Sales Commission A sales commission of 30% is required by the gallery for the Benefit of Flanders Nature Center and Land Trust of all work sold. Please take this into consideration when setting your price. Delivery and Return of Accepted Work Delivery for Local Artists: Please deliver uncrated paintings to the "Field Projects" exhibition space at Blue Horse Arts, 250 Porter Street, Watertown, CT. ,on Friday, May 20, 2012. Hand delivered work must be picked up between June 23rd and June 28th, 2012. Out of Town Artists: Ship to the "Field Projects" exhibition space at Blue Horse Arts, 250 Porter Street, Watertown, CT., 06795, to arrive Thursday, May 24, 2012. Handling Fee: Out-of-Town artists must include a $25 check payable to Blue Horse Arts to cover the expense of uncrating, storage of crates, and re-crating and contacting the shipper for return. In a separate envelope, include the appropriate return shipping label with your personal Fed Ex or UPS Account Information. The Jury Committee results are deemed final. CALENDAR CHECK LIST. MAY, 4th, 2012 Deadline for on-line submissions. MAY, 15th Notification to Finalists via e-mail MAY, 20th, 2012 Local Artists: deliver artwork to the "FIELD PROJECTS" Exhibition Space at BLUE HORSE ARTS, 250 Porter Street, Watertown, CT. 06795 during normal gallery hours. 11AM - 5PM Tuesday - Sunday or by appointment MAY, 24th, 2012 SHIPPED ARTWORK must arrive at "FIELD PROJECTS" Exhibition Space at BLUE HORSE ARTS. The Mailing address is Blue Horse Arts, 250 Porter Street, Watertown, CT. 06795 JUNE Opening Reception for collectors, press, exhibiting artists and the public. 7:00 P.M. to 9:00 P.M. JUNE 2nd, 2012-JUNE 22nd, 2012 Length of time show will be open for viewing. See below for gallery hours. JUNE Local artists must remove paintings during this week, or a $5.00 a day storage fee will be charged. Gallery Hours Daily: 11:00 A.M.-5:00 P.M. Tuesday- Sunday or by appointment Awards Field Projects Award $500.00 from an immensely, generous, anonymous supporter of our Arts, Environment, and Educational mission. Pollinators Garden Award $200.00 which stems from the combined donations of local businesses and like-minded individuals who support the cause. We are working on growing this one:)! Natalie Von Vleck Award $100.00 for High School Students who have created work that celebrates the pollinators. Good Seed Studios Award $150.00 for best work in the online exhibition.
Print this Page
View Legal Agreement