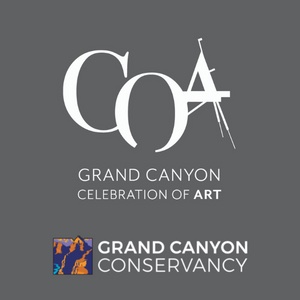 14th Annual Celebration of Art
To pay by check, please mail to:
Grand Canyon Conservancy Attn: Robin Roelofs PO Box 399, Grand Canyon, AZ 86023
Please include in the memo line "14th Annual COA Application Fee".
Contact Email:
kduley@grandcanyon.org
Call Type:
Exhibitions
Eligibility:
International
State:
Arizona
Event Dates:
9/9/22 - 1/16/23
Entry Deadline:
1/15/22
Application Closed
REQUIREMENTS:
Media
Images - Minimum: 3, Maximum: 8
Total Media - Minimum: 3, Maximum: 8
Entry Fee (14th Annual Grand Canyon Celebration of Art): $45.00

Event Description:
The Celebration of Art at Grand Canyon is an annual event that includes a week of plein air activity, an online auction, and a public opening that debuts a four-month-long exhibition and sale of participating artists' work.
Celebration of Art is a wonderful tradition at Grand Canyon National Park, providing a vibrant experience for visitors, a venue for artists inspired by the canyon, and a successful fundraiser to benefit a dedicated art venue at the park.
Specifications for Works Accepted for Exhibition
Studio Submission: Each participating artist will submit one studio piece for the exhibit.

A professional-quality electronic image of this piece must be submitted by March 31, 2022, for reproduction in the exhibition catalog. Files must be high-resolution (300 dpi when reproduced at 9 x 12 inches).
Plein Air at Grand Canyon: Additional artwork must be completed on-site at the Grand Canyon between September 10 and September 17, 2022, and must feature Grand Canyon National Park subject matter. Blank canvases will be "stamped" with an official event insignia beginning on Friday, September 9, 2022, during the artists' orientation and registration. All completed works must be suitably framed and ready to hang when checked in. D-rings with picture wire or a suitable hanging device must be attached.
All participating artists must adhere to the event schedule and participate in the Paint Out on September 16, 2022, and online auction on September 1, 2022 - September 17, 2022. Paintings for the online auction must be received by August 1, 2022. (exceptions made with the approval of the Event Coordinator).
Number of pieces: Each participating artist will submit a minimum of five (5) plein air paintings that have been produced during the event. Grand Canyon–themed artworks produced prior to the event, up to ten (10) pieces, are allowed for backup display and sale but must be approved by the Event Coordinator prior to submission.
Sales
This event is a fundraiser for the Grand Canyon Conservancy, a 501 (c)(3) nonprofit organization. The Grand Canyon Conservancy will retain a 50 percent commission on all sales. Payments for work sold will be mailed to the artist on a regular schedule during the exhibition.
Shipment of Unsold Art
Artists are responsible for the cost of returning unsold artwork. All artists must provide FedEx or UPS account numbers for the return of unsold art.
Lodging and Transportation
Reservations and the cost of lodging are the responsibility of the artist. Lodging options will be sent to participating artists in their notification packets. Artists are responsible for providing their own transportation to, from, and within Grand Canyon National Park.
Awards
People's Choice Award (voted on by the public during the online auction
Artists' Choice Award (Artists select one of their peers, based on body of work)
Best of Show: (judged by master juror)
Calendar and Deadlines
January 15, 2022– Artist Entry Form postmark deadline
End of January 2022 – Jury meets
First week of February 2022 – Artist notification emailed
March 31, 2022 – Hi-res image (300 dpi when reproduced at 9 x 12 inches) of studio piece submitted for the exhibition catalog
2022 Event Schedule*
Friday, September 9 – Artists arrive for orientation and canvas stamping (afternoon)
September 10-17 – Artists paint onsite (in addition, scheduled public demonstrations in the park)
Week of September 12th – Framed art turned in for hanging (times to be determined)
Friday, September 16 – All artists paint along the rim between Mather Point and Trailview Overlook
Friday, September 16 – Paint Out event (evening)
Saturday, September 17 – Online auction closes
Sunday, September 18 – Public Opening Reception
Exhibition & Sale through January 16, 2023
*Additional events and/or presentations may be scheduled at a later time. Events are subject to change.
Application Requirements:
Entry Form, Fee and Deadline
Please submit a completed entry form, a one-page résumé (including contact info), three (3) images of your plein air artwork (including at least one Grand Canyon image painted from the Rim) in JPEG format (see following paragraph), and a non-refundable entry fee of $45. All artwork must be submitted in JPEG format; slides and prints will not be accepted. All entries must be received by January 15, 2022.
Image Format
Each artist must submit a minimum of three (3) and a maximum of eight (8) professional-quality images of their plein air artwork in JPEG format with a minimum resolution of 300 DPI. Images should include the title of the piece in the file name. At least one Grand Canyon image painted from the Rim must be included in your submission. In addition, please list the title, dimensions, medium and price of your pieces on the Entry Form.
Selection Process
The Grand Canyon Celebration of Art is an invitational and juried event. A panel of three to five jurors will review all applications and will select four to six artists who, together with returning and invited artists, will comprise the participants in the 2022 event. Notification of acceptance will be emailed to each applicant no later than February 4, 2022.
Eligibility:
The event is open to all artists 18 years and older with plein air experience and experience painting the Grand Canyon from the rim. Please include plein air experience in the résumé that is submitted with your application.
QUESTIONS?
Contact Kathy Duley - Event Coordinator
480-277-0458
kduley@grandcanyon.org
Print this Page
View Legal Agreement