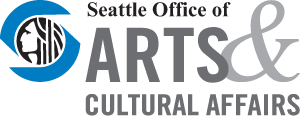 City of Seattle: Art Interruptions
Contact Email:
jason.huff@seattle.gov
Call Type:
Unspecified
Eligibility:
Unspecified
State:
Unspecified
Entry Deadline:
5/4/12
Application Closed
REQUIREMENTS:
Media Images:6


INTRODUCTION
Art Interruptions is seeking artists to create temporary art installations to go on or be applied to city-owned street and park infrastructure along Greenwood Avenue North and the Central Waterfront. Art Interruptions encourages artists to install artworks on city sidewalks and parks to offer passers-by a brief interruption in their day, giving a moment of surprise, beauty or humor. Up to 12 artists will be selected to develop a series of artworks that can be temporarily attached or applied to street or park infrastructure/furniture (utility poles, trees, tree pits, walls, railings, stair risers, etc.) without causing any damage for a six-week period in summer 2012.
BACKGROUND
The city of Seattle is committed to improving our walking environment, particularly in urban villages and in neighborhoods. Seattle Department of Transportation (SDOT) has developed policies and action plans to make Seattle's transportation system more accessible and enjoyable for its users. As part of its strategy, in 2005 SDOT adopted the SDOT Art Plan
http://www.seattle.gov/transportation/artplan.htm
funded by the Office of Arts & Cultural Affairs. The SDOT Art Plan identifies temporary, small-scale artistic interventions in the right-of-way as a way to enliven the pedestrian realm and contribute to the aesthetic experience of the streetscape. In collaboration with the Office of Arts & Cultural Affairs, SDOT is launching a temporary art project to fulfill these goals. Art Interruptions will launch in tandem with PhinneyWood Summer Streets 2012
http://www.seattle.gov/transportation/summer_green.htm
, an event in the Phinney Ridge and Greenwood neighborhoods. PhinneyWood Summer Streets, which takes place on August 10, opens up Greenwood Avenue North between North 65th and North 87th streets to pedestrians and bicyclists and supports the neighborhood's monthly art walk
http://artupgreenwood-phinney.blogspot.com/
. The Central Waterfront will also serve as a location for installing artworks throughout the summer of 2012. Artworks will be along the west side of Alaskan Way between Vine Street and South Washington Street, including areas in Waterfront Park and Piers 62 and 63. This initial project may also provide a model for future small-scale temporary SDOT art projects.
ELIGIBILITY
The call is open to artists residing in Washington.
SCOPE OF WORK
Working with SDOT, Seattle Parks and Recreation (Parks), and the Office of Arts & Cultural Affairs, the selected artists/artist teams will design and develop a series of small-scale, temporary artworks to be installed on city-owned street furniture/infrastructure (utility poles, trees, tree pits, walls, railings, stair risers, etc.) within the Greenwood Avenue North corridor and/or locations along the Central Waterfront. The artworks should draw the attention of pedestrians through beauty, surprise, humor or wit, and enliven the pedestrian environment by introducing an element of the unexpected into the everyday sidewalk. Artwork locations include: • SDOT infrastructure along Greenwood Avenue North (between North 65th Street and North 87th Street) • Waterfront Park • Piers 62 and 63 • Marion Street pedestrian bridge (between 1st Avenue and Bainbridge Ferry Dock) • Pike Street Hill Climb (between Alaskan Way and Western Avenue) • SDOT infrastructure along Alaskan Way (between South Washington Street and Vine Street) Note: Alaskan Way Viaduct columns are property of the Washington State Department of Transportation and not available for art installations. The selected artist may consider different options for materials and approaches for the artworks and will be encouraged to make use of street infrastructure in a unique and interesting way. The artwork must be designed so that it can be easily installed and de-installed by the artist, and will not cause permanent damage to city property. Artwork must not be a distraction to drivers. Proposed artworks must comply with all SDOT and Parks guidelines. Please see "View Site Details" link at the top of the page to view project guidelines and details. Artists will be selected by a panel based on qualifications and a written concept proposal. Selected artists will present their artwork proposals to SDOT, Parks and the Office of Arts & Cultural Affairs staff in July. Pending approval, the artists/artist teams will install their work for the PhinneyWood Summer Streets event in August and/or identified locations along the Central Waterfront. Selected artists will work with the city staff to determine artwork locations based on availability and all artwork proposals. Depending on the nature of their artwork, the artists may install the work on the day of the PhinneyWood Summer Streets event as a way to interact with the public. Artworks created for this project are temporary and are intended to remain on display for a minimum of six weeks or other time period (depending on the medium of the artwork) negotiated with the Office. Schedule: • Commissioned artists tour Central Waterfront site: June 2012 • Design and presentation of artworks: July 2012 • Installation of artworks by artists: August 2012 • Removal of artworks: October 2012
BUDGET
Each selected artist will receive a $1,000 stipend. Funded by SDOT 1% for Art funds.
APPLICATION DEADLINE
11 p.m., Friday, May 4, 2012
APPLICATION REQUIREMENTS
Six (6) images of past artworks. Concept proposal images are not necessary at this time. CaFÉTM image format instructions can be found at
https://www.callforentry.org/image_prep.phtml
.
• Letter of interest (not to exceed 2,000 characters) • Concept proposal (not to exceed 2,000 characters). Describe roughly what you plan to install and the type of location where it could be displayed. Describe the methods and materials used in the installation. • Resume • References
SELECTION CRITERIA
The artists or artist teams will be selected on the basis of the following criteria: strength and artistic merit of past works, quality and ideas expressed in the concept proposal, visual and technical sophistication, creativity of approach, ability to complete a project on time and references.
SELECTION PROCESS
The selection will take place in one day. A panel of arts professionals, SDOT representatives and pedestrian advocates will review the applicants' images, qualifications, concept proposal and other materials. The panelists will select between six to 12 artists who will be awarded commissions.
NOTIFICATION OF RESULTS
Applicants will be notified of the panel's decision by e-mail in late May. The Office of Arts & Cultural Affairs reserves the right not to select any of the applicants.
WE'RE HERE TO HELP
For questions about the project or the selection process, please contact Jason Huff at (206) 684-7278 or
jason.huff@seattle.gov
For assistance with the CaFE online application process, contact CaFE tech support at (888) 562-7232 or
cafe@westaf.org
, Monday-Friday, 7:30 a.m. to 4:00 p.m. Pacific Daylight Time.
Print this Page
View Legal Agreement