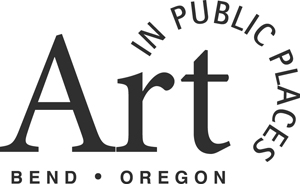 Empire Avenue & Butler Market Road & 27th Street Roundabout
Contact Email:
artinpublicplacesbend@gmail.com
Call Type:
Public Art
Eligibility:
Regional
State:
Oregon
Entry Deadline:
4/29/22
Application ClosedBudget:
$$130,000
REQUIREMENTS:
Media Images:6


Location
Bend, Oregon
Who We Are
Art in Public Places is a non-profit organization that has donated public art throughout the city of Bend, Oregon since 1973. For over 40 years Art in Public Places has created an enhanced visual environment for Bend residents and promoted tourism and economic vitality through the artistic design of public spaces. AiPP's ongoing efforts have steadily increased the public art collection in Bend for everyone to enjoy.
AiPP has donated large scale sculptures to the City of Bend for 20 roundabouts as well as numerous other works of art to Bend Park & Recreation District, Central Oregon Community College, Deschutes Public Library and St. Charles Foundation. Bend's public art collection is a permanent part of what makes Bend so unique and a wonderful place to visit and reside.
City of Bend
Residents and visitors are drawn to Bend for its high desert climate and rich and varied year-round recreation: skiing, cycling, hiking, fly fishing, climbing, kayaking, rafting and golf. Now, with more people working remotely, Bend has grown and flourished, truly a community with diverse backgrounds and a shared love for the place and lifestyle. Bend is home to nationally recognized breweries, Mt. Bachelor ski area, High Desert Museum, Central Oregon Community College and the Oregon State University- Cascades Campus. Today, Bend is the largest Oregon city east of the Cascades with a population nearing 100,000.
Site Context for Butler Market Road, Empire Avenue & 27th Street Roundabout
The Butler Market Road/Empire Ave./27th Street roundabout opened in October 2020 as part of the Empire Corridor Road Improvements project in NE Bend. This roadworks project extended Empire Avenue, added new sidewalks and bike lanes, and created three new roundabouts for this heavily traveled route. There are 20,000 cars on both Butler Market Road and 27th Street each day.
The closest businesses to the roundabout include a gas station, convenience store, bagel shop, dentist office and the Trinity Lutheran School and Church. Under construction is an Affordable Housing complex with 48 units. This roundabout is near Pine Nursery Park, Ponderosa Elementary and Mt. View High School. There are numerous established neighborhoods (Boyd Acres, Mt. View and Orchard District) as well as a large new residential development under construction just off Butler Market Road at Deschutes Market Road and Eagle Road where the other two roundabouts were built.
Cars traveling west on Butler Market Road will intersect with Highway 97/Bend Parkway where the Bend River Mall, Riverhouse Convention Center and various restaurants and hotels are located. Cars crossing Highway 97 will continue west up Mt. Washington Drive heading to several residential neighborhoods. Cars traveling east on Butler Market will head towards the Bend Airport and leave the Urban Growth Boundary of Bend.
Cars heading west on Empire Avenue will skirt the edge of Pine Nursery Park, neighborhoods, and numerous industrial parks businesses before accessing an on ramp to the Bend Parkway. Cars heading south on 27th Street will drive past Mt. View High School, St. Charles Medical Center (at Neff Road) and The Forum Shopping Center (Costco, Safeway and Whole Foods) at the corner of Greenwood Avenue and 27th Street making it a major north/south corridor on the east side of Bend.
The overall size of the roundabout is 4,250 sq. ft. with available land for sculpture footings focused on the northern edge of the roundabout (the larger area is 430 sq. ft. along with a long narrow strip at 182 sq. ft.) as well as two areas on the west (95 sq. ft.) and east side (246 sq. ft.) of the roundabout. The width of the truck apron is 15 ft. wide There is a drainage area in the middle of the roundabout which cannot have any deep foundations (less than 2 ft). Overall footings must be 5 ft. away from all underground utilities.
Requests for Qualifications (RFQ)
Project Budget
The total project budget for this commission is $130,000, including City of Bend permit fees, stamped engineering drawings, subcontractors, footings/excavation, delivery, insurance, travel, restorative landscaping, installation and a traffic mitigation plan (signage and flaggers) as per the City permit requirements. Only Finalists will submit an itemized budget for the proposed project.
Artist Submission Requirements
Artists and Artist Teams applying must submit all of the following information by April 29, 2022. Please do not submit a design or concept at this time. Artist Teams please submit only one application. Late applications will not be considered.
•Letter of Interest – One (1) PDF upload
1. Contact Information (name, address, phone, email, website).
2. Description of most relevant comparable project experience from the last 12 years.
3. Description of your interest in working on this specific project.
•Six (6) digital images of completed past works of art or public art. With each image, please include title, medium, dimensions, year completed, budget and city/state. Work examples must be from the last 12 years showcasing sculptures/installations in outdoor spaces. (Do not submit images of indoor works of art).
Finalists Selected Based on the Following:
Letter of Interest
Comparable Project Experience
Artistic excellence on image samples
The selection committee will evaluate all submissions based on artistic excellence, innovation, interactivity, originality and the work's ability to enhance the natural landscape and enliven this public space. Our selection criteria will require artists to demonstrate experience with public art projects, using materials suitable for public outdoor settings, site-specific design, and collaborating with other artists, architects, engineers, fabricators and City government administrative staff. The potential to create an impactful design for this public art project will score highly on our evaluation criteria.
Selection Process
Phase 1: A selection committee consisting of the AiPP Board and a representative from the City of Bend Engineering department will select 3-4 Finalists. The stipend for travel and design time is $1,500. Finalists are encouraged to use the stipend for a Site Visit to Bend early in the design phase to see the roundabout and, as schedules allow, meet key players from the AiPP Board and an Engineer with the City of Bend.
Phase 2: Each of the 3-4 Finalists will present their design renderings to the selection committee via Zoom. The overall proposal will include design renderings, a detailed budget and a conservation maintenance plan. Public input will be gathered during the phase. Finalists will submit a presentation poster 10 days in advance of the Zoom meeting. The selection committee will make their decision based on eligibility and the scoring criteria described above.
Project Timeline
Call to Artists announced: March 18, 2022
Application Due: April 29, 2022
Notification of Finalists: Late May 2022
Design Time and Site Visit: June 2022
Artist Presentation of design rendering proposals via Zoom: mid-to-late July 2022
Public Input (two weeks): August 2022
Commission Selection: August 2022
Installation: Spring 2023

Questions
Questions about the project may be directed to Marcelene Trujillo, AiPP Project Coordinator via email at artinpublicplacesbend@gmail.com. Assistance in using the CaFE system is available via email at helpcafe@westaf.org.
Eligibility
Open to Artists and Artist Teams residing in the Northwest and Southwest United States, specifically Oregon, Washington, Idaho, Montana, Nevada, California, Arizona, Texas, New Mexico, Wyoming, Colorado and Utah. Black, Indigenous, People of Color, Women, LGBTQAI+ community members are highly encouraged to apply. Artists living in Oregon are highly encouraged to apply.
Print this Page
View Legal Agreement