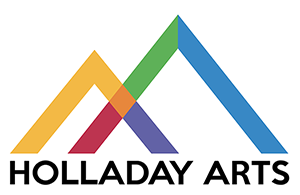 Holladay Village Plaza Sculpture
APPLY NOW
Contact Email:
sgillilan@cityofholladay.com
Call Type:
Public Art
Eligibility:
National
State:
Utah
Entry Deadline:
5/27/22
Days remaining to deadline: 4
Budget:
$175,000
REQUIREMENTS:
Media
Images - Minimum: 3, Maximum: 10
Video - Minimum: 0, Maximum: 1
Total Media - Minimum: 3, Maximum: 10
Holladay Village Plaza
The Holladay Village Plaza is located at the northwest intersection of 2300 E and Holladay Murray Boulevard in Holladay, Utah. The plaza, built in 2012 is planted with trees native to this area of Utah as well as annual flower displays. The plaza was designed to include a large, round, stepped platform as the potential site for public art work to serve as the anchor and place marker for the community. The platform is approximately 20 feet in diameter and 3 feet off the ground.
The plaza is bordered by angled parking, restaurants, a coffee shop, a clothing boutique, and other businesses on its west side, with open, paved and grassy space to the east. Raised planter boxes with decorative pavers are placed throughout the plaza, which is also characterized by decorative faux antique light fixtures and hanging flower baskets. Immediately nearby the plaza are high-end condos and retail businesses, including a grocery store, lumber yard, bicycle shop, bank, art gallery, bakery, medical complex, day spa, diner, offices and a mixed-use (commercial/residential) building under construction. The area is a community gathering place for shopping, eating, arts events, winter holiday celebrations, and summertime music. Community members also walk, bike, or jog through the plaza, especially on weekends. City Hall is located directly north of the plaza and includes a skate park, picnic pavilion, children's playground, and large park where multiple events are held each year.
City of Holladay http://cityofholladay.com/
The Fremont Culture lived in central and northern Utah around A.D. 400 with similar characteristics of the Basketmaker Puebloan Culture with critical maize-bean-squash horticulture. Near the end of the thirteenth century, the Fremont people likely merged into cultures of hunter-gatherers who were the ancestors of the Numic-speaking Shoshoni, Goshute, Paiute, and Ute.
The origins of what is now the City of Holladay (elevation 4,465 feet) go back to July 1847, with the arrival of the first groups of Mormon pioneers. Some of the pioneers, led by John D. Holladay, settled on the banks of a small stream they named Spring Creek, a tributary to the Big Cottonwood Creek. A plat of the area was surveyed in 1849 and was called the "Holladay Field Plat" and later became known as Holladay's Burgh. This area was one of the last Salt Lake County settlements to become developed. In many ways, the Holladay/Cottonwood community has successfully retained its quasi-rural, "out in the country" character until the 1960s, especially in a few notable neighborhoods where perennial and seasonal streams promote lush plant growth.
The Holladay community remained an unincorporated area of Salt Lake County until May 4, 1999. On that day, the citizenry voted by over 83% to approve incorporation and the City of Holladay was officially incorporated on November 30, 1999. Holladay is nestled at the base of the Wasatch Mountains and 10 miles southeast of Utah's capital, Salt Lake City.
Residents who voted for city incorporation overwhelmingly wanted to have more control over local planning and zoning decisions. The population of just over 32,000 continues to work to improve the quality of life in Holladay in numerous ways such as:
· Making the traditional central business area – The Holladay Village – pedestrian and bike friendly through the creation of biking and walking trails, and the development of the City Hall Civic Center complex
· Actively working to increase and stabilize the city tax base through economic development opportunities via master planning, creative use of zoning tools and implementation, redevelopment of the old, Cottonwood Mall site into a new, appropriately scaled, mixed-use activity center, and looking to improve the function, safety and beauty of major streets
· Promoting the expansion and preservation of the tree canopy and a public resource to increase civic beauty, improve air quality, enhance property values, and protect Holladay's reputation as a premier green community in the foothills of an area which is essentially a high desert climate
· Improving the ability of residents to participate in city-sponsored events via excellent public event programming at conveniently located, attractive municipal facilities
· Increasing recreational opportunities.
The City of Holladay is also building a long-term public art plan for multiple public art installations throughout the city to unify commercial districts, help brand the city, support businesses, attract economic development, and contribute to the quality of life and health of residents.
ART SELECTION COMMITTEE STATEMENT
The Selection Committee is looking forward to working with an artist or team to help create an art installation befitting this central plaza and becoming the inaugural large public art project for the city. The Committee has identified the round, stepped platform in the northeast corner of the plaza as the signature site of the public art creation.
The Committee envisions an artist's work inspired by, and taking context from, Holladay's natural geography and the reasons people throughout history have settled and been nurtured here -- specifically, the abundant tree canopy, streams, creeks, and near access to mountain flora and fauna. Importantly, the Committee cannot entertain works that actually incorporate water, but welcomes artistic interpretation of the above resources and their effects on the quality of life for the area's inhabitants.
The Committee is looking to commission artwork that appeals to people of all ages and encourages civic pride. The artwork should be of appropriate scale to the project site and should strive to create a focal point/landmark (destination/selfie spot) for the plaza and community that stands out in this urban setting. It is hoped the work will become iconic of Holladay and will reinforce the plaza's function as a gathering place for residents, visitors, and patrons. It is also important that the work be safe, durable, and easily maintained as it will need to withstand large temperature variations (approximately 10 degrees – 105 degrees) and weather conditions of direct sun, rain, snow, wind, and ice. The Committee is open to proposals that include creative, subtle lighting features if they are integrated into the artwork and require little to no maintenance.
Selection Process and Schedule
The Selection Committee will review all applications from which a short list of semi-finalists will be selected. These semi-finalists will be invited and paid an honorarium to develop a full proposal to include concept, budget, and timeline. The finalist honorarium will be in addition to the commission amount for the artist(s) awarded the commission. The Committee reserves the option to reject all submissions or to commission more than one artist. It is anticipated that final selection(s) will be made from the semi-finalists.
The Committee will consider the applicants' past work, resume and level of interest to determine the applicants most likely to complete this commission toward the stated goals in the Committee Statement.
May 27, 2022: Deadline for receipt of qualifications
July 7, 2022: Committee review & notification of finalists following
September 7, 2022: Finalist presentations / proposals
October 6, 2022: Contract negotiation
September 2023 (or earlier): Installation
Artist Selection Committee
Chair, Sheryl Gillilan, Executive Director, Holladay Arts Council
Gina Chamness, City Manager
Bonnie Nell, Holladay Arts Council
Chris Knaphus, Holladay Arts Council
Paul Fotheringham, City Council Member
Jon Teerlink, Director, Community & Economic Development
TBD, Plaza Business owner
Rita Wright, Holladay resident, and Director, Springville Museum of Art
Resident American or legal resident artists / artist teams are eligible for this commission. Utah artists are strongly encouraged to apply. Art selection committee members / family members and Holladay Arts Council staff / family members are not eligible to apply for this project.
Print this Page
View Legal Agreement