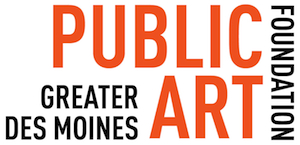 PROJECTspaces: Iowa State Fair
Contact Email:
projectspaaces_ISF@dsmpublicartfoundation.org
Call Type:
Public Art
Eligibility:
National
State:
Iowa
Entry Deadline:
4/4/14
Application Closed
REQUIREMENTS:
Media
Images - Minimum: 6, Maximum: 8
Total Media - Minimum: 6, Maximum: 8
The Greater Des Moines Public Art Foundation's Project Spaces initiative, in partnership with the Iowa State Fair, requests qualifications for temporary public art that will be on display for the duration of the Iowa State Fair, August 7–17, 2014.
BACKGROUND
Greater Des Moines Public Art Foundation (GDMPAF) is a nonprofit organization that places art in public spaces through public and private collaborations. It is responsible for advancing and administering the affairs and activities of the community's pubic arts program and assisting to provide public art by venerated professional artists as part of civic and private sector development and community initiatives. It believes that identity, distinctiveness, and meaning are added to a specific site by integrating works of art and the creative thinking of artists into the design.
www.dsmpublicartfoundation.org
Project Spaces is a GDMPAF program that places compelling, temporary works of art in highly visible public spaces.
The internationally acclaimed Iowa State Fair is the single largest event in the state of Iowa and one of the oldest and largest agricultural and industrial expositions in the country. Annually attracting more than 1-million people from all over the world, the Iowa State Fair in Des Moines is Iowa's great celebration, a salute to the state's best in agriculture, industry, entertainment and achievement. Throughout its history, the Fair has been a unique institution, serving to educate, inform and entertain people from all walks of life. It is an outstanding agricultural showplace, boasting one of the world's largest livestock shows. Also home to the largest art show in the state, the Fair showcases visual and performing arts with a variety of special exhibits and activities.
SITE DETAIL
The Iowa State Fair has made three (3) spaces available for this project, all part of the Cultural Center facility. Pictures of the spaces are included. A floor plan with the noted spaces is available as a downloadable pdf.
Electricity is available to any location assuming enough advance notice.
A 24-foot square space in the first floor atrium. This is an interior space with two stories of height. It is viewable from above and from all sides.
A 24-foot circular space is located in the center of the courtyard. This is an exterior space with unlimited height. It is viewable from all sides and above from third story windows.
Two 20 x 48 foot spaces on the hillside. These are exterior spaces on the hillside of the courtyard. There are two concession stands that feature awnings for shade. These are viewable from the courtyard, from third story windows and from the upper plaza walkway to the East.
EXPECTATIONS
Artistic merit as evidenced by images.
Professional qualifications, such as artistic achievement and professional recognition, as expressed in a resume or curriculum vitae.
Demonstrated ability to complete successfully public art projects of similar scale and scope.
Ability to work on a design team with other professionals, as required.
The artist's immediate availability will be an important factor.
The selected artist or artist team will work with the GDMPAF's Project Spaces team. A project panel, organized by the GDMPAF, will review and approve the design before agreeing to enter into production of the artwork.
BUDGET
GDMPAF relies on financial support from individuals, foundations, and other support from both the public and private sectors. The GDMPAF has earmarked $4,000 for the proposed project. This sum covers expenses associated with the artist fee and materials.
In addition, finalists receive a $500 honorarium to create a design concept.
SUBMISSION
There is no fee to apply.
Eligible Applicants should submit:
Two-Page Résumé (uploaded as a PDF) that outlines professional accomplishments. As part of the résumé include three professional references (name, affiliated organization, email address and phone number). For team applications, include two-page résumés and three professional references for each member. Fewer references are appropriate if they endorse the artists as a team. If available, please include images of work that demonstrate a collaborative effort to create an artwork by all members of the team.
Six to eight images of past work (uploaded as JPEG files) illustrating two to four completed site-specific public art projects (we suggest two views of each project). Examples must illustrate projects within the context of a specific site. These images constitute the primary evaluation your work's quality. Regrettably, moving image files will not be accepted. Artists specializing in kinetic or sound works should describe the action of the piece in the Image Identification List.
Image Identification List (uploaded as a PDF) that provides project title, location, date completed, media, dimensions, budget, commissioning agency, project partners, brief description of the project/conceptual information.
Entries are only accepted electronically. GDMPF will conduct its submission process online with the materials submitted in digital format through CaFE™ at
www.callforentry.org
.
No slides or CDs are accepted. Artists are required to create a CaFE™ profile to apply.
First time users of the system should allow approximately 1-1/2 to 2 hours to prepare images and submit an application.
SELECTION PROCESS
Evaluation will be done by a panel of experts selected by the GDMPAF, as well as community leaders. The panel will consider and evaluate all applications submitted and will recommend finalists based on quality of image submissions and previous experience/qualifications.
Each finalist will be assessed on their ability and qualifications as illustrated in previous projects of similar scale and scope.
The selection panel will then make a recommendation to the GDMPAF Board (the board reserves the right to recommend none of the submissions).
ELIGIBILITY
Artists 18 or older are eligible. Iowa residents and those who may demonstrate a connection to Iowa are invited to submit proposals. If you are not currently an Iowa resident, please explain your Iowa connection.
All materials must be submitted through CaFE™
www.callforentry.org
SCHEDULE
Friday, 4 April 2014: RFQ Submission Deadline
Monday, 21 April 2014: Finalists Notification; Artists are notified by e-mail
Friday, 30 May 2014: Finalists Concept Design Deadline
Thursday, 5 June 2014: Announcement of Selected Artist/Design Team
Print this Page
View Legal Agreement