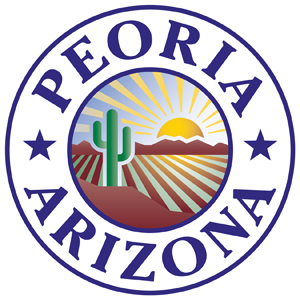 City of Peoria North Community Park
Contact Email:
burruel.manuel@yahoo.com
Call Type:
Public Art
Eligibility:
National
State:
Arizona
Entry Deadline:
12/2/16
Application Closed
REQUIREMENTS:
Media
Images - Minimum: 5, Maximum: 10
Video - Minimum: 0, Maximum: 2
Total Media - Minimum: 5, Maximum: 10
Introduction
The City of Peoria is in the State of Arizona and is a major suburb located northwest of Phoenix. The City limits consist of approximately 178 square miles of residential, commercial, industrial and municipal developments. The City has an estimated population of 150,000.
The Peoria Arts Commission oversees Peoria's public art program and is committed to enhancing the quality of life in the community by fostering and supporting cultural opportunities for both local artists and the general public. Funding for art projects comes from the city's capital improvement projects (streets, parks, fire stations, libraries, etc.) which contribute one percent of the total cost of the projects into a dedicated arts fund. The arts fund is then used for acquiring public art. For a list of Peoria's public art, visit the City of Peoria Arts Commission website at: www.peoriaaz.gov/arts and click on the link for "Peoria Public Art."
Upon final selection of an artist, the City will initiate the Agreement for Commission of Public Art, specifying the project scope, method, cost, and completion schedule for that project. The selected artist shall then be responsible for the production and installation of the artwork.
Site Description
The City is planning the development of a community park which will offer regional level recreational services to the public. The City selected a unique 450 acre site 16 miles south of Lake Pleasant. The attributes of the site include areas that are in their natural undisturbed condition (see attached photographs). The habitat consists of the Upper Sonoran Desert ecology with majestic saguaro cacti and desert riparian vegetation along the natural drainage arroyos that flow through the site. Two prominent site features include Westwing Mountain which defines the southern edge of the site and the 30 foot tall linear levee along the west side of the site which serves as a component of the nearby New River Dam system.
The park facilities occupy a portion of the 450 acre site. The remaining areas of this site will be left in its natural condition or planned for future facilities such as a recreation center. The facilities programmed for this community park include lighted sports fields such as soccer and ball fields, court games, a skate park, an activity area that consists of a splash pad, and large play facility/plaza areas. The initial planning also proposes a dog park area and a lake that will be stocked for catch and release fishing. There will be a number of drainage corridors that will be maintained in their natural condition. Hard and soft surface walks and trails will provide pedestrian connection throughout the site and into the adjacent desert and mountain ridge. Some features may be phased for future construction.
Scope of Work
The City of Peoria is seeking submittals for outdoor public artwork at the City of Peoria North Community Park. There are multiple potential site locations for public artwork (see attached park schematic). The total art budget for the project is two hundred sixty thousand ($260,000) for up to three public art pieces. Artists may submit for one or multiple pieces.
The following are considerations but not requirements:
Reflect &/or complement the

upper Sonoran Desert ecology

& landscape

Concepts that incorporate public involvement

Reflect the design of the park and it's usage

Possible functional aspects and safe interaction by users of the park
If you have any questions you may contact:
Manny Burruel, Public Art Consultant, at 623-826-9912 or burruel.manuel@yahoo.com
Selection Procedure
A selection committee, with representation from the Peoria Arts Commission, will be established to review the submitted application materials and make a recommendation to the City. The selection committee will invite up to 10 semi-finalists to develop complete proposals. The Peoria Arts Commission will review the committee's suggestions and then make its project recommendations to the full City Council for action.
Criteria for evaluating artists' initial applications are as follows:
Artistic merit and quality of artwork.

Artist's past experience or "track record" of producing commissions of similar size, cost, artistic media, etc.

Artist's ideas for the project related to the park's design/usage.

Sensitivity and understanding of the proposed project site, surroundings, and Peoria's image and cultural history.
Arizona artists are strongly encouraged to apply.
Semi-Finalists
Proposals should include drawings, model(s), plus specific information on scale, medium, installation, and complete budget. Semi-finalists are also required to make a presentation of their final proposals.
Each semi-finalist will receive a stipend to help compensate for out-of-pocket costs associated with the selection process. The stipend for materials to create a model will be reimbursed at a maximum of $500. Artists who live outside Maricopa County will also be reimbursed for travel related costs with the following stipulations:
Round Trip Air Transportation – coach class fares

One Day Car Rental – mid-size car

(City assumes no liability regarding additional insurance costs).

One Night of Lodging –Artists are encouraged to stay in hotels located within the City of Peoria. A listing of accommodations within Peoria can be found on the following website:

http://www.peoriaaz.gov/NewSecondary.aspx?id=51353
Criteria for evaluating the semi-finalists' proposals are as follows:
A. Artistic merit and quality of artwork
B. Artist's past experience or "track record" of producing commissions of similar size, cost, artistic media, etc.
C. Likelihood that the artist can produce the art product in the given time period, budget, and guidelines.
D. Sensitivity and understanding of the proposal to the site, surroundings, and Peoria's image and cultural history
E. Attention to safety, durability and maintenance requirements.
Timeline
Call to Artists Announcement October 21 – December 1, 2016
Deadline for Submissions December 1st 2016
Announcement of Semi Finalist(s) December 12, 2016
Presentation by Semi-Finalist(s) January 26, 2017 [tentative]
Announcement of Finalist(s) February 28, 2017 [tentative]
Collaboration of art and park design 4-6 months
Fabrication and Installation of artwork 4-6 months
Grand Opening of Park Fall 2018
The above timeline may be adjusted by the Peoria Arts Commission as necessary. All parties involved in the commission process will be notified of any adjustments to the project schedule.
Print this Page
View Legal Agreement