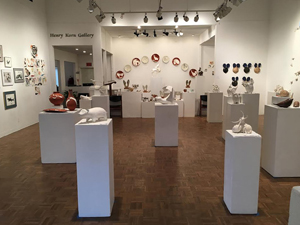 2021 & 2022 Exhibits Schedule
1910 East 15th Avenue
Eugene , Oregon
97403
APPLY NOW
Contact Email:
exhibits@mkartcenter.org
Call Type:
Exhibitions
Eligibility:
National
State:
Oregon
Entry Deadline:
5/10/20
Days remaining to deadline: 40
Number of Applications Allowed:
2
REQUIREMENTS:
Media
Images - Minimum: 10, Maximum: 20
Audio - Minimum: 0, Maximum: 1
Video - Minimum: 0, Maximum: 1
Total Media - Minimum: 10, Maximum: 20
Entry Fee (2021 & 2022 Exhibits Schedule): $30.00

Maude Kerns Art Center is currently accepting submissions for its 2021 & 2022 Exhibits Schedule. Local, regional, and national artists (individuals and groups) working in 2- and 3- dimensional mediums, as well as installation art, are invited to submit their work for consideration. Solo, group, and/or themed shows will be curated based on the content, quality, and number of submissions. Established, mid-career, and emerging artists are encouraged to apply.

ART CENTER & GALLERY:
The Maude Kerns Art Center, founded in 1950, is a non-profit community art center for the visual arts in Eugene, Oregon, dedicated to providing exhibitions and educational programs for all ages, facilities for artists, public events, and support for community artists. The Art Center presents 8 – 10 exhibitions each year, including solo and group shows featuring local, regional, and national artists. Over its 70 year history the Maude Kerns Art Center has been a springboard for emerging artists as well as providing an excellent space for established artists of almost all media and styles imaginable. The Art Center boasts two main gallery areas with high ceilings, a raised stage area, a Members Gallery Gift Shop, over 500 registered members who receive notifications of upcoming shows, as well as being home to a ceramics studio, darkroom, print studio, and multiple classrooms for ongoing arts education.
ENTRIES:
Each submission, individual or group, needs to include a minimum of 10 images and up to a maximum of 20 images total. 1 audio/video file may be submitted in place of an image.
GROUP SUBMISSIONS:
A submission fee of $30 applies to individual or group submissions. Groups can be two or more artists. For groups a minimum of 10 images and a maximum of 20 images is allowed. You may include up to 1 audio and/or video file in place of an image. Please provide a file that includes an artist resume for each artist in the group. A statement describing the overall theme or concept of the exhibit should also be submitted along with the artists' statements. For ease of communication, one artist must be designated the "coordinator" of the exhibit.
SELECTION PROCESS:
Jurors will be accomplished artists and art professionals. Artists will be chosen based on quality and technical excellence. It is understood that the individual pieces of art submitted may not be available during the assigned exhibit period. Art Center staff will work closely with the artist to select work for the final exhibit.
ARTWORK:
Shipping fees to and from the Art Center are the responsibility of the artist. All artwork must be prepared to hang or to be installed in a professional manner. Art Center Staff reserve the right to reject work upon receipt if it does not meet the quality indicated in the submitted images.
SALES:
Sales are encouraged, although artists may display work that is not for sale. The Art Center will be paid a 35% commission on all art and merchandise sold in connection with your exhibit (including facilitation of sales within three months after the exhibit period) and Artists retain 65% of sales prices. The Art Center will list your work for sale on our website during the exhibit period.
Print this Page
View Legal Agreement